peggy lampman's dinnerfeed
recipe:

Mint-Pesto Crostini with Smoked Salmon & Goat Cheese is perfect to entertain out-of-town guests

Posted on Thu, Aug 16, 2012 : 4:59 a.m.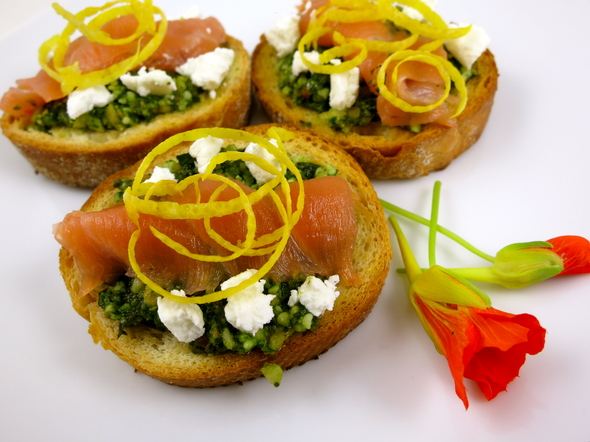 Peggy Lampman | Contributor

To receive my lastest dinnerFeed posts
by email, sign up here.

When out-of-town guests pay a quick visit, I don't do much cooking. I love showing off Ann Arbor; the renowned campus, downtown eateries and shops are far more entertaining than my backyard. But I'm a cook, and guests expect a bit of something special from my kitchen.

Last week a good friend from Seattle, Jeannie, came to visit me and our other pal, Donna. It's been seven or eight years since her last visit, so we decided to have a bite at my place, then go downtown for dinner. I made an appetizer I'd seen in Redbook Magazine; one of several delectable finger foods featured in their "Redbook Happy Hour House Party" section.

Making several changes to the recipe to suit my palate, I used a larger proportion of mint to spinach and switched out pine nuts for walnuts. I recalled (wrongly) that Jeannie eschewed meat, so substituted smoked salmon for prosciutto, which worked well paired with the minty pesto. My technique for making pesto is different from Redbook's, but overall my recipe is similar, in Happy Hour spirit.
I made the pesto and crostini 24 hours in advance. I refrigerated the pesto, and the toasted baguette slices remained crisp overnight, left uncovered in the cold oven. I assembled the crostini minutes after Jeannie arrived from the airport; the salty salmon, tart goat cheese and herbaceous pesto were delightful paired with the Prosecco I popped to celebrate our reunion.
Then off we went down Main Street and its intersecting streets, to peruse restaurant menus and discover what sounded appealing to all. Craving the pan-Asian flavors of Panko crusted Berkshire Pork, I cast my vote for Pacific Rim. But Donna (who always gets her way) made a strong case for the crab cakes at Real Seafood, insisting that they were packed with crab. Jeannie broke the stalemate, saying she was in the mood for crab.
Grudgingly I acquiesced, and ended up pleased with the decision. With a crisp exterior to hold the shape, these plump cakes were all about sweet clumps of lump crab. Nestled against a small green salad of strawberries and walnuts, they were sublime.
Jeannie and Donna were the first friends I made after arriving in Ann Arbor in 1975. Jeannie is from Allegan, Mich. and — as so many native Michiganders I've known through the years — left Ann Arbor after graduation to live on the west coast, leaving me and Donna in her dust. But we had no desire to look elsewhere, and spread our roots under a canopy of trees and eclectic wooden homes, in this smart, quirky university town.
Yield: 16 crostini
Time: 35 minutes
Ingredients
1 baguette* cut into 16, 1/2-inch slices
3 large garlic cloves, peeled
1/2 cup extra-virgin olive oil
1/2 cup pine nuts
1 1/2 cups fresh spinach leaves
3/4 cup fresh mint leaves
1 teaspoon each grated lemon zest and lemon juice, plus extra lemon zest for garnish, if desired
1/2 cup grated Parmigiano Reggiano
3 tablespoons crumbled goat cheese
1/4 thinly sliced smoked salmon, cut into 16, 1-inch pieces
*I used a demi-baguette
Instructions
1. Preheat oven or toaster oven to 350 degrees.
2. Arrange bread slices on a foil-lined sheet pan. Cut one of the garlic cloves in half and rub over each bread slice. Lightly brush each bread slice with olive oil. Bake in oven until bread slices are crisp but not overly browned, 10-15 minutes. Remove from oven and let cool. (They will remain crispy for 24 hours in a cold oven.)
3. Toast the pine nuts and remaining 2 cloves garlic in the oven until pine nuts are golden brown, 2-4 minutes; watch carefully as pine nuts burn quickly.
4. To make the pesto, in a food processor, puree the garlic with 2 tablespoons oil until smooth. Add the pine nuts to the bowl and, with off and on pulses, pulse until semi-pureed yet coarse. With a spatula, scrape garlic-nut mixture from the bowl into another bowl and reserve.
5. Place the spinach, mint, remaining olive oil, lemon zest and juice, in the food processor and process until smooth.
6. To make the pesto, combine spinach mixture with garlic-nut mixture. Stir in Parmesan and season to taste with kosher salt and freshly ground pepper. (The pesto will remain fresh, tightly covered, several days refrigerated.)
7. To make the crostini, spread pesto over each toast. Arrange goat cheese crumbles and salmon over pesto and garnish with lemon zest, if desired.