Posted on
Thu, Feb 28, 2013 : 4:21 a.m.
Spinach-Rice-Nut Loaf with Red-Wine Shiitake Sauce proves that meatless meals need not be ho-hum
By Peggy Lampman
Peggy Lampman | Contributor

My dinnerFeed web site is a lean,
mean fighting machine!
To receive my lastest dinnerFeed posts
by email, sign up here.
Does upscale dining, to you, necessitate a meaty protein commanding center stage? Make the following recipe and you may have second thoughts. As most vegetarians know, meatless dining need not be a ho-hum experience, even when eschewing the "butter makes everything better" trick.
My pals Debbie and Dave Swartz are quite the wholesome — albeit picky — food lovers who can always be relied on to forward me healthy, vegetarian recipes. These aren't recipes they find on-line or clipped from magazines that simply "sound good"; they are recipes that have been tested numerous times in their kitchen and passed the scrutiny of their palates; this vegetarian loaf is a case in point.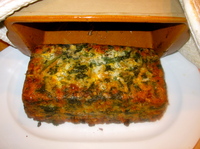 Debbie tells me she received the following recipe from Eric Rabkin, a University of Michigan professor in the English Language and Literature Department and School of Art and Design. Eric describes himself as a vegetarian who enjoys cooking, and when invited to a friend's house for dinner, doesn't want to burden his host with special dietary needs.
"When my wife and I have been invited by friends to dinners, for example for Thanksgiving, at first I surprised people by offering to bring my own dish so as not to trouble my hosts, who often offered to make something just for me. But once people tasted this, I began to get requests to make enough for me to have as a main dish and those of a more traditional diet to have as a side."
There are many types of vegetarians, and Eric,
according to the web site "Vegetarians for Dummies", is a lacto ovo vegetarian.
Folks like Eric exclude meat, fish and poultry from their diet but include dairy products and eggs, two components in the following recipe.
It's the toothsome texture of the loaf, bits of walnut, sunflower seeds and brown rice in every bite, that leaves more traditional meat loaf recipes a distant memory. The addition of Cheddar cheese (the sharper the better) lends a piquant, rich mouth feel, and egg and wheat germ bind the flavors together in a tidy package.
Eric suggested a sauce would be a nice addition, so I made one with red wine and shiitakes; flavors I enjoy paired with proteins, in general. In keeping with the healthy components of the loaf, I substituted the usual 2 to 3 tablespoons of butter used to make red wine sauces, with olive oil.
I also added well-drained, chopped cooked spinach to the loaf, which Eric heartily endorsed, promising he'd shared his easy Spinach Soup recipe with me another time. I made extra brown rice, which I served on the side — the ideal mop for the sauce posing no redundancy that might threaten the integrity of the main course.

"Sharing food is such a wonderful practice with family and friends." Eric says. "Despite the fact that most of my friends aren't vegetarians, their pleasure in some of my dishes, like this one, makes cooking and eating all the better."
Yield: 6 servings
Active Time: 20 minutes
Bake Time: 50 minutes
Cooling Time: 10 minutes
Ingredients:
4 large eggs
1 pound frozen spinach, thawed, all water squeezed out then chopped
1 1/2 cups cooked brown rice
1/2 cup wheat germ
3/4 cup chopped walnuts
1/4 cup sunflower seeds
1 cup finely chopped yellow or white onion
1/2 pound sharp Cheddar cheese, shredded (2 cups)
Oil for greasing loaf pan
Red-Wine Shiitake Sauce, optional (optional; recipe follows)
Directions:
1. Preheat oven to 350 degrees.
2. Lightly beat eggs with 1 teaspoon kosher salt and 1 teaspoon freshly ground pepper. Stir in spinach and brown rice and combine with egg. Stir in wheat germ, walnuts, sunflower seeds, onion and cheese. Thoroughly combine all ingredients.
3. Pack mixture into a well-oiled 9-inch loaf pan. Bake on middle rack of oven 50 minutes or until firm. Let cool in pan 5-10 minutes, then run a sharp knife or spatula around edges of pan to loosen; invert onto a dish large enough to accommodate loaf.
4. Cut into slices, then serve ladles with (optional) Reduced-Fat Red-Wine Shiitake Sauce (recipe follows).
Reduced-Fat Red-Wine Shiitake Sauce
Ingredients
2 teaspoons corn starch
1 cup good red wine
1 tablespoon olive oil
1 teaspoon finely chopped shallot
3 1/2 ounces sliced fresh shiitake mushrooms
2 cups reduced-sodium vegetarian, chicken or beef stock
Directions
1. Whisk corn starch into red wine and reserve.
2. Heat olive oil over medium heat in a heavy-bottomed, medium-sized pot. Sauté shallot in oil with a pinch of kosher salt 2 minutes, occasionally stirring. Stir in mushrooms and cook until just limp; remove from pan and reserve.
3. Pour wine and stock into pan, bring to a boil then reduce to a rolling simmer. Let reduce 15-25 minutes or until mixture thickens enough to adhere to the back of a spoon. Stir shallot-shiitake mixture into pan. Season with freshly ground pepper and kosher salt, if needed. reheat then spoon over loaf slices.
Peggy Lampman is a real-time food writer and photographer posting daily feeds on her website and in the Food & Grocery section of Annarbor.com. You may also e-mail her at peggy@dinnerfeed.com.