Posted on
Fri, Jan 18, 2013 : 4:31 a.m.
Split Pea Soup - a hot and healthy dish for a gray winter's day
By Peggy Lampman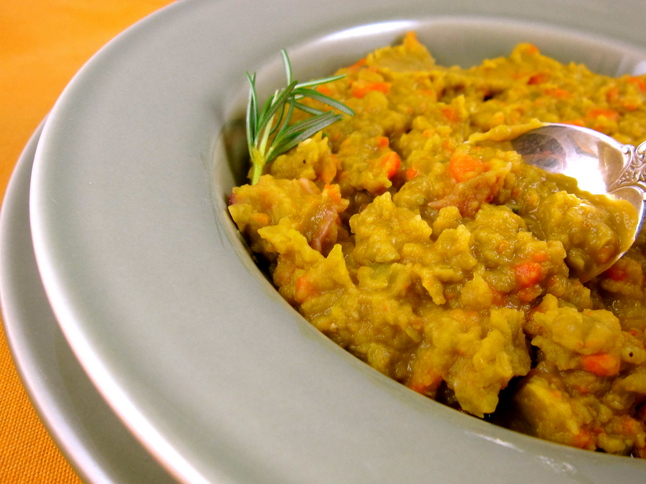 Peggy Lampman | Contributor

My dinnerFeed web site is a lean,
mean fighting machine!
To receive my lastest dinnerFeed posts
by email, sign up here.
Split Pea Soup is perfect for gray, wintry days when you want to warm up to a hot, healthy soup. I suppose I could cut out the fat almost completely by leaving out the ham hock, but that — to me — is what makes this soup so good.
Smoked turkey legs or wings are excellent substitutes for ham hocks, and the addition of balsamic vinegar and tarragon or rosemary, transforms this simple pea soup from everyday to sublime.
Split Pea soup thickens considerably after being refrigerated. To reconstitute, you may want to add additional water to the soup when reheating.
Active time: 12 minutes
Simmer time: 75-90 minutes
Number of servings (yield): 4-6
Ingredients
2 tablespoon olive oil
1 cup chopped carrots
1/2 cup chopped onion
1/2 cup chopped celery
1 pound smoked ham hock(s)*
1 pound dry split peas
1/2 bay leaf
1-2 tablespoons balsamic vinegar
2 teaspoons chopped fresh tarragon or rosemary (or 1 teaspoon dry)
Instructions
1. In a large pot, heat olive oil to medium and sauté carrots, onion and celery with a pinch of kosher salt until tender and fragrant, about 7 minutes, stirring occasionally. Add 10 cups of water to pot, ham hock(s) and peas to pot, stir, and let come to a boil.
2.Reduce heat to a simmer and cook, stirring occasionally, until peas are emulsified and thickened into a purée, 75-90 minutes. Stir in additional water if soup becomes too thick.
3. Remove bay leaf and discard. Remove ham hock, cutting any ham away from bone and returning meat to soup. Season to taste with kosher salt, freshly ground pepper, balsamic vinegar and tarragon.
*In general, I've found the larger ham hocks have far more meat than the smaller ones. I look for ham hocks close to a pound each.
Peggy Lampman is a real-time food writer and photographer posting daily feeds on her website and in the Food & Grocery section of Annarbor.com. You may also e-mail her at peggy@dinnerfeed.com.