Posted on
Fri, Apr 27, 2012 : 4:39 a.m.
Spring Green Risotto showcases tender asparagus
By Peggy Lampman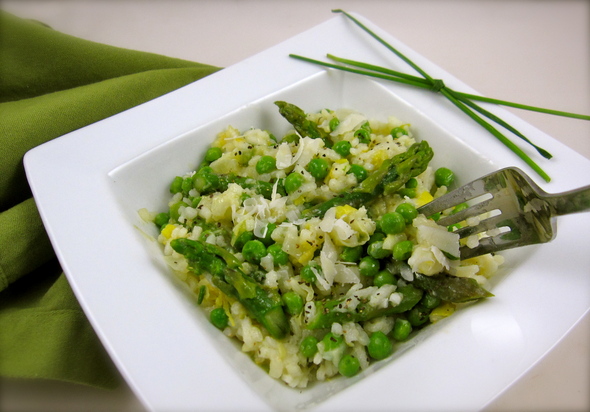 Peggy Lampman | Contributor

mean fighting machine!
Can one have too much of a good thing? Not when it comes to asparagus, and I'll be making recipes with asparagus quite a bit in the next few weeks.
I used the classic rice - Po Valley Arborio rice - in the recipe below. You could substitute nutritional whole grains, such as semi-pearled farro or pearled barley for the Arborio rice, if desired.
This Ina Garten recipe for Spring Green Risotto is a celebration of spring green flavors with the zap of abundant lemon. Ina's addition of mascarpone in the end is la piece de resistance! (It didn't get a five-star reader review for nothing.)
The original version of Ina Garten's recipe may be found in her Barefoot Contessa "Back to Basics" cookbook.
Time: 55 minutes
Yield: 4 main course servings
Ingredients
1 1/2 tablespoons extra virgin oil
1 1/2 tablespoons unsalted butter
3 cups chopped leeks, white and light green parts (2 leeks)
1 cup chopped fresh fennel bulb
1 1/2 cups Arborio rice
2/3 cup dry white wine
4 to 5 cups simmering chicken stock, preferably homemade
1 pound thin asparagus, locally grown if possible, cut diagonally into 1 1/2-inch pieces, ends discarded
10 ounces frozen peas, defrosted, or 1 1/2 cups shelled fresh peas
1 tablespoon freshly grated lemon zest (2 lemons)
2 tablespoons freshly squeezed lemon juice
1/3 cup mascarpone cheese, preferably Italian
1/2 cup freshly grated Parmesan, plus extra for serving
3 tablespoons minced fresh chives, plus extra for garnish
Instructions
1. Heat the olive oil and butter in a medium-sized saucepan over medium heat. Add the leeks and fennel and saute for 5 to 7 minutes, until tender. Add the rice and stir for a minute to coat with the vegetables, oil, and butter. Add the white wine and simmer over low heat, stirring constantly, until most of the wine has been absorbed.
2. Add the chicken stock, 2 ladles at a time, stirring almost constantly and waiting for the stock to be absorbed before adding more. This process should take 25 to 30 minutes. Blanch asparagus in boiling salted water for 1 to 3 minutes, until they just bend slightly. Drain and cool immediately in ice water. (If using fresh peas, blanch them in boiling water for a few minutes until the starchiness is gone.)
3. When the risotto has been cooking for 15 minutes, drain the asparagus and add it to the risotto with the peas and lemon zest. Continue cooking and adding stock, stirring almost constantly, until the rice is tender but still firm.
4. Whisk the lemon juice and mascarpone together in a small bowl. When the risotto is done, turn off the heat and stir in the mascarpone mixture plus the Parmesan cheese and chives. Season to taste with kosher salt and freshly ground pepper. Serve hot with a garnished with chives and additional Parmesan.