Posted on
Wed, Aug 22, 2012 : noon
Yellow squash stuffed with vegetables and cheese makes a light summer supper
By Mary Bilyeu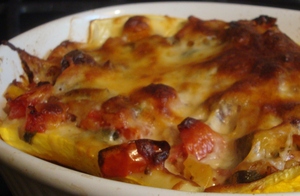 Mary Bilyeu | Contributor
Since I don't have my own vegetable garden this year — with the exception of one ghost pepper plant, as well as a huge and thriving horseradish root from my friend Deborah — I have to rely upon the kindness of loved ones and the bounty of farmers' markets for my supplies. Thankfully, all are in abundance!
My friend Miriam very thoughtfully shared some yellow squash with me recently, and Jeremy and his dad brought me tomatoes from their back yard. So, what better way to use them than to combine them? Toss in a few olives and some brightly colored peppers, then top it all off with cheese; an assortment of raw vegetables transforms into a spicy, tremendously flavorful, perfect light summer supper... with many thanks to the generous folks who contributed to the meal.
Vegetable-Stuffed Baked Yellow Squash
2 9-inch yellow squash, ends trimmed
1 tablespoon extra-virgin olive oil
1 teaspoon Italian seasoning
pinch of red pepper flakes
1/3 cup chopped red onion
1/3 cup chopped peppers (yellow, red, and/or orange)
2 tablespoons balsamic vinegar
1 medium tomato, chopped
pinch of kosher salt
1/4 cup chopped Kalamata olives
handful of basil leaves, chopped
1 cup shredded mozzarella cheese
Preheat oven to 375 degrees.
Cut squash in half lengthwise and scoop out seeds. Place the halves into a small casserole dish, cut-side up.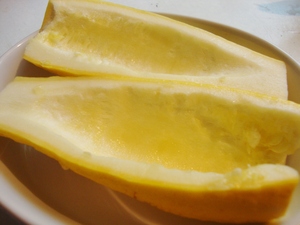 In a medium saucepan, heat the oil over medium heat. Add the seasoning, red pepper flakes, onion, and peppers; cook, stirring occasionally, for 3-4 minutes. Add vinegar, tomato, salt, and olives; cook for 2-3 more minutes until vegetables have softened. Stir in the basil. Pour vegetables over the squash, filling the cavities.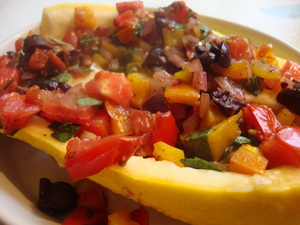 Sprinkle with cheese and bake for 30 minutes until squash is somewhat fork-tender and the cheese has melted and browned; cover with foil and bake for 15 more minutes, until the squash is fully fork-tender.
Serves 2 as an entree or 4 as a side dish.

Mary Bilyeu writes for AnnArbor.com on Tuesdays, Wednesdays, and Fridays, telling about her adventures in the kitchen - making dinner, celebrating holidays, entering cooking contests, meeting new friends ... whatever strikes her fancy. She is also on a mission to find great deals for her Frugal Floozie Friday posts, seeking fabulous food at restaurants on the limited budget of only $5 per person. Feel free to email her with questions, comments, or suggestions: yentamary@gmail.com.

Go visit Mary's blog — Food Floozie — where she enthuses and effuses over all things food-related; and look for her monthly articles in the Washtenaw Jewish News. "Like" her on Facebook, or send a tweet on Twitter, too.

The phrase "You Should Only Be Happy" (written in Hebrew on the stone pictured in this post) comes from Deuteronomy 16:15 and is a wish for all her readers - when you come to visit here, may you always be happy.