Posted on
Fri, Oct 26, 2012 : 4:05 a.m.
Squid Ink Pasta with Squid looks scary but brims with briny flavor
By Peggy Lampman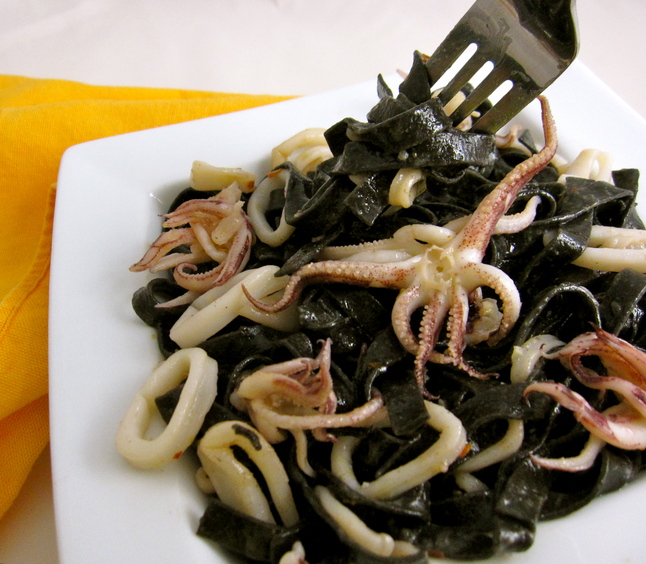 Peggy Lampman | Contributor

My dinnerFeed web site is a lean,
mean fighting machine!
To receive my lastest dinnerFeed posts
by email, sign up here.
Trick or Treat! Yum...this is my idea of a Halloween warm-up. It looks squiggly-wiggly scary and is delicious; Al Dente's
squid ink pasta
has a mild briny flavor of the sea, and the squid has a marvelous toothsome texture.
Unsure about squid? I'll bet you love fried calamari. In English-speaking countries, squid is often marketed as calamari, the Italian word for squid. Many assume calamari are only deep fried rings of chewy seafood of some sort. Yes, it's "calamari" you're eating, but it's also "squid".
In this easy, quick recipe, I undercook the local artisan pasta, then finish cooking it in the sauce. You don't want to remove that beautiful starch by rinsing the pasta after cooking; the pasta releases some of the starch, thickening the sauce a bit. In fact, I often add a bit of starchy pasta cooking water to sauces to add subtle flavor and texture.
Time: 25 minutes
Yield: 2-3 main course servings
Ingredients
8 ounces Al Dente squid ink pasta
1 tablespoon unsalted butter, divided
2 tablespoons extra virgin olive oil, divided
1 pound squid, cut into rings, tentacles left whole
1/2 cup dry white wine
1/2 cup seafood stock
1 heaping teaspoon minced garlic
1 teaspoon Old Bay, or other seafood seasoning blend
1/2 teaspoon red pepper flakes


Instructions
1. Bring a large pot of salted water to a boil. Cook pasta for 2 minutes (it will continue to cook further in the sauce.)
2. Melt 1/2 tablespoon butter and heat 1 tablespoon of olive oil over high heat. When fat bubbles, add squid to pan and cook 1-2 minutes, or until squid loses some of the rawness.
3. Add wine to pan and bring to a low boil. Add seafood stock, garlic, Old Bay, red pepper flakes and remaining butter and oil. Add pasta to pan, reduce heat, and simmer 4-5 minutes, stirring, or until pasta is tender but firm to the bite.
Peggy Lampman is a real-time food writer and photographer posting daily feeds on her website and in the Food & Grocery section of Annarbor.com. You may also e-mail her at peggy@dinnerfeed.com.