Posted on
Mon, Dec 19, 2011 : 2:15 p.m.
Standing Rib Roast a simple but perfect entree for Christmas
By Peggy Lampman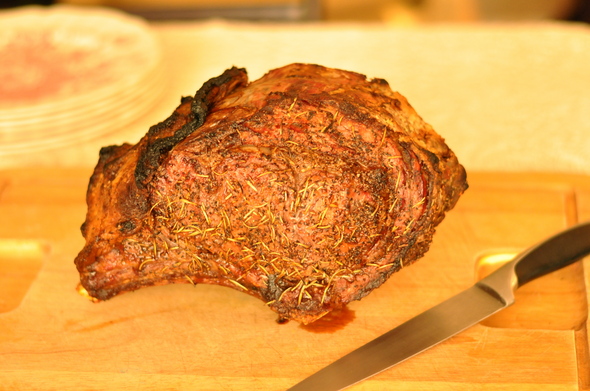 Peggy Lampman | Contributor

The new Holiday Cookbook answers all of your cooking needs. Strapped for time? Check out the well-tested Super-Simple section.
I saw this recipe redux from 1966 in the New York Times last year. The article was written by Amanda Hesser. and I couldn't wait until prime rib season was here to try it. Why? Because it sounded impossibly simple. And guess what? It was. It was also delicious and cooked to rare perfection.
The recipe was adapted from Ann Seranne, a former editor of Gourmet Magazine. One change I made was rubbing rosemary into the flesh, which took an extra minute of time, and this flavorful addition was worth the effort. I also sauteed some shiitakes in pan drippings with a splash of wine, but it wasn't essential for success, so I didn't include that step or ingredients in the recipe.
Last year I roasted an Herb-Crusted Standing Rib Roast with flavors of horseradish. I served it with a red wine mushroom gravy; pretty darn tasty, as well. The gravy would also be marvelous with this roast.
Click here for a slide show demonstrating just how easy this recipe is to prepare.
Active Time: 5 minutes
Rest Time: 2 1/2-4 hours
Roast Time: Refer to above instructions;depends on size of roast
Number of servings (yield): Each rib serves 2 people
Ingredients
1, 2- to 4-rib roast of beef, weighing 4 1/2 to 12 pounds
Flour as needed
Kosher salt
Freshly ground black pepper
2 tablespoons dry rosemary
Instructions
1. Remove roast from the refrigerator 2 1/2 to 4 hours before cooking.
2. Preheat oven to 500 degrees.
3. Place the roast in an open, shallow roasting pan, fat side up. Sprinkle with a little flour, and rub the flour into the fat lightly. Generously season all over with salt, pepper and rosemary.
4. Place roast in oven and roast according to the roasting chart below*, timing the minutes exactly. When cooking time is finished, turn off the oven. Do not open the door at any time. Allow the roast to remain in the oven until oven is lukewarm, or about two hours. The roast will still have a crunchy brown outside and an internal heat suitable for serving as long as 4 hours after removing from the oven.
*2 ribs: 4 1/2 to 5 pounds; 25 to 30 minutes.
*3 ribs: 8 to 9 pounds; 40 to 45 minutes.
*4 ribs: 11 to 12 pounds; 55 to 60 minutes.
My new web site (packed with holiday recipes) has recently been launched. (www.dinnerFeed.com)! I'm a real-time food writer and photographer posting daily feeds on my website and in the Food & Drink section of Annarbor.com. You may also e-mail me at peggy@dinnerfeed.com.