Posted on
Fri, Dec 30, 2011 : 9:06 a.m.
Starry Night Tart is labor-intensive but worth the effort
By Peggy Lampman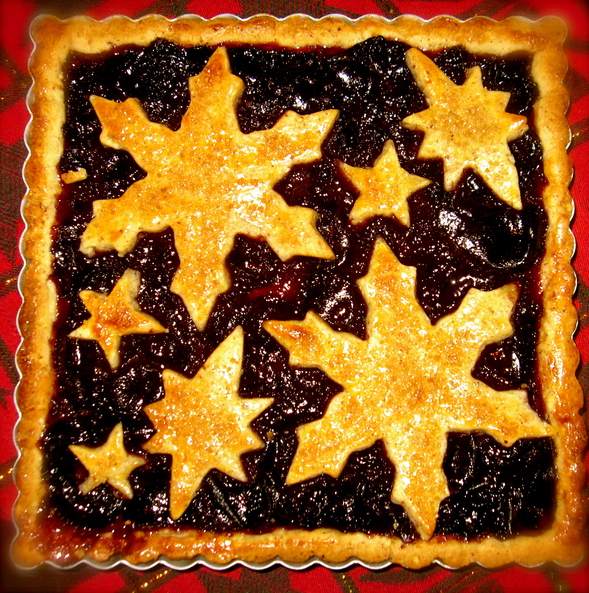 Peggy Lampman | Contributor

Richard and I invited my son, Zan, and his girlfriend, Lucy, over for a cozy little holiday dinner. I made my usual Bouillaibaisse accompanied by a Tossed Salad with Gorgonzola and Pears. Lucy brought dessert. This was not any old store-bought pie, mind you. This was a dessert from the heavens.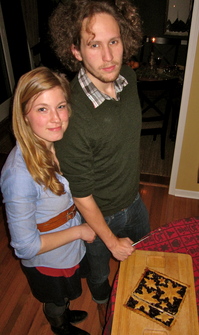 Lucy says that, for the most part, she followed a recipe in the December 2011 issue of Bon Appetit to the letter. Bon Appetit named the tart "Sugarplum-Orange and Apricot Earl-Grey Jam Tarts," but that's too much of a tongue twister for me. We took the liberty of rechristening it "Starry Night Tart," although the recipe is cut and paste (with the omission of the Apricot Jam) from the Bon Appetit website.
The apricot jam was omitted to utilize the plum jam she'd put up for the winter (her grandmother's recipe). I would imagine any jam or combination of jams you enjoy could be substituted.
Lucy served the tart with sweetened whipped cream, which is not in the recipe but highly recommended. The recipe yields 2 to 2 1/2 tarts. I asked how long it took to make the tarts, and my son rolled his eyes. As is the case with many Bon Appetit tart and cake recipes, they may be labor-intensive, but the results are sublime and well worth the effort.
Happy New Year! Don't forget to eat your Hoppin' John on New Year's Day. Eating black-eyed peas on New Year's Day will bring you luck through 2012.
Yield: 2 tarts
Ingredients
1 1/2 cups hazelnuts with skins
4 1/2 cups all-purpose flour, divided, plus more for surface
2 1/4 teaspoons kosher salt
1 1/2 teaspoons baking powder
2 tablespoons freshly grated nutmeg, divided
1 1/2 cups sugar
1 1/2 cups (3 sticks) unsalted butter, room temperature
7 tablespoons heavy cream, divided
4 large egg yolks, divided
1 teaspoon (or 1 bag) Earl Grey tea
3 cups plum jam, divided
2 teaspoons finely grated orange zest
1/4 cup raw sugar
Special equipment 
Two tart pans with removable bottoms, either 11-inch-diameter or 11x8-inch rectangle; decorative cookie cutters in 2 sizes
Directions
1. Place nuts and 1 1/2 cups flour in a food processor. Process until nuts are finely ground. Add remaining 3 cups flour, salt, baking powder, and 1 1/2 teaspoons nutmeg; process to blend.
2. Using an electric mixer, beat the sugar and butter in a large bowl until creamy, about 2 minutes. Add 6 tablespoons cream and 3 egg yolks; beat to blend well, about 1 minute. Add half of flour mixture; beat just to blend. Add the remaining flour mixture and beat until large, moist clumps form. Divide dough equally into thirds. Form 1 portion into a ball; flatten into a disk. Wrap in plastic and chill while preparing tarts.
3. With lightly floured hands, press the 2 remaining dough portions evenly onto bottom and up sides of the tart pans. DO AHEAD: Can be made 1 day ahead. Cover; keep chilled.
4. Preheat oven to 375 degrees. Mix tea and 1/4 cup boiling water in a small bowl; set aside to steep for 15 minutes. Stir 1 1/2 cups of plum jam and strained tea in a medium bowl to blend. Stir remaining plum jam and orange zest in another medium bowl to blend.
5. Using a lightly floured rolling pin, roll reserved dough disk out on a lightly floured surface to 1/8-inch thickness. Using decorative cookie cutter, cut out shapes. Gather dough into a ball, roll out, and repeat until enough cutouts are made to arrange on tops of tarts. Freeze any remaining dough for future use.
6. Spread plum jam and tea mixture in an even layer over crust in 1 tart pan. Spread plum jam-orange mixture in an even layer over crust in other pan. Place dough cutouts decoratively over jam. Whisk remaining 1 tablespoon cream and remaining egg yolk in a small bowl. Brush cutouts with cream mixture. Mix remaining 1/2 teaspoon nutmeg with raw sugar; sprinkle over tarts.
7. Bake tarts, rotating pans halfway through and covering crust edges if browning too quickly, until top is golden brown and jam is bubbly, 45-50 minutes. Transfer to wire racks and let cool (jam will set as tarts cool). DO AHEAD: Can be made 1 day ahead. Store airtight at room temperature.
My new web site (packed with holiday recipes) has recently been launched. (www.dinnerFeed.com)! I'm a real-time food writer and photographer posting daily feeds on my website and in the Food & Drink section of Annarbor.com. You may also e-mail me at peggy@dinnerfeed.com.