Posted on
Tue, Feb 1, 2011 : 7 a.m.
Stephan Pyles's Heaven and Hell Cake: Even cake is bigger in Texas
By Erin Mann
Erin Mann is baking a new cake every week for a year from the "All Cakes Considered" cookbook and shares her adventures here on AnnArbor.com. Read past columns here.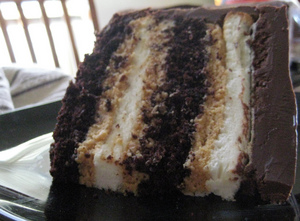 Erin Mann | Contributor
Maestro, cue the fanfare because today is worth celebrating. I've finished assembling the final cake in the "All Cakes Considered" cookbook. A year ago,
Stephan Pyles's Heaven and Hell cake
was utterly intimidating. A seven-layer cake was out of reach for this novice baker who was learning to cream butter and sugar for the first time. Now, with 54 other cakes under my apron ties, I'm prepared to take on this Texas-sized dessert.
Stephan Pyles created his trademarked Heaven and Hell cake at Star Canyon restaurant in Dallas, Texas, in 1994. A creamy peanut butter mousse between alternating layers of devil's food cake and angel's food cake, coated in a smooth shell of chocolate ganache, compose this dessert that still graces the menu of his namesake restaurant 16 years later.
Chef Pyles named the dessert for the combination of devil's food and angel's food cakes. According to "All Cakes Considered," Chef Pyles overheard a waitress telling customers "it's heaven on your lips and hell on your hips." I prefer, "hell to bake, heaven to taste" because baking this cake is time consuming and challenging. Making two types of cake, a filling and a frosting is no simple task. But nothing worth doing is ever easy, right?
As I baked through "All Cakes Considered" I made both the devil's food cake and angel's food cake. (In fact, the recipe for the devil's food cake in this dessert is identical to the devil's food with the raspberry jam I baked in week 43.) I also made ganache frosting for last week's peppermint pattie cake. I've never made peanut butter mousse, but mixing peanut butter with cream cheese and confectioners' sugar is surely a task I can handle.
First, I made the devil's food cake layers because the bake time and cooling time in the pan are shorter than the angel's food cake, which will free up the cake pans sooner. While the devil's food cakes were baking and cooling I worked on the ganache.
For the ganache, the recipe calls for 2 lbs of milk chocolate. I often think milk chocolate is too sweet and favor the taste of dark chocolate with a higher cacao content. I used a mix of milk chocolate morsels and dark chocolate bars, including a Scharffen Berger Mocha bar. The mocha bar contains small bits of coffee bean lending a subtle coffee flavor to the chocolate. I strained the ganache after mixing it to remove the coffee bits.
Once I finished the ganache, the devil's food cakes were ready to come out of their pans and cool on a rack. I covered my ganache lightly with plastic wrap, washed my cake pans and prepared them with parchment (not grease) for the angel's food cake layers. I mixed the peanut butter mousse while the angel's food cakes were in the oven. (If you own a copy of the cookbook, you'll notice I baked each component of the cake in a different order than suggested in the recipe—it made more sense to me to do it this way.)
If you're a peanut butter lover, you'll really enjoy this cake. The saltiness and slight tang of the peanut butter mousse is so delicious with the sweet cake and ganache.
The recipe for Stephan Pyles's famous Heaven and Hell Cake is available from Saveur. The peanut butter mousse recipe yields a lot of mousse. Melissa Gray adapted the recipe for "All Cakes Considered" by halving the amount of cream cheese, confectioners' sugar and peanut butter, and reducing the heavy cream to 2 tablespoons. I followed Melissa's version and it was more than enough for the cake.
Next week, I will officially bid farewell to my year-long cake project with "All Cakes Considered" and introduce my new endeavor, Baking Bachelorette. Until then, happy baking.
Erin Mann is ruining diets one cake at a time with her weekly kitchen adventures. Email this baking bachelorette at SheGotTheBeat@gmail.com or follow her on Twitter. Facebook users can also keep up-to-date with A CAKE A WEEK by joining the group.