Posted on
Mon, Jan 14, 2013 : 4:31 a.m.
Stir-fried Peanut Chicken with Eggplant and Shiitakes - with advance prep, dish comes together quickly
By Peggy Lampman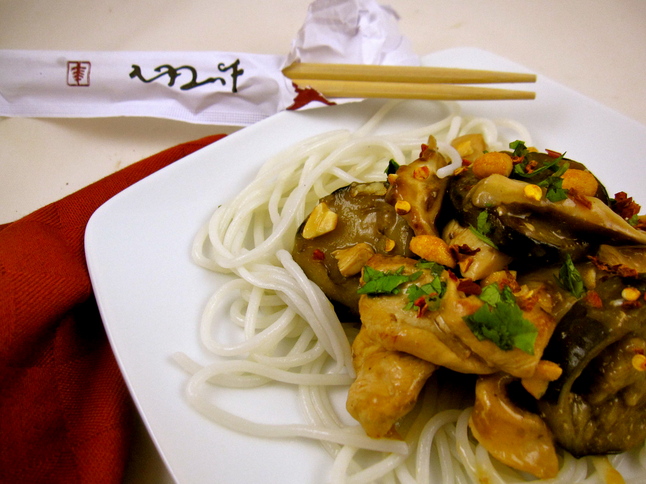 Peggy Lampman | Contributor

My dinnerFeed web site is a lean,
mean fighting machine!
To receive my lastest dinnerFeed posts
by email, sign up here.
Tonight's week-day supper includes ingredients that can altered, mixed and matched according to your leftovers and palate.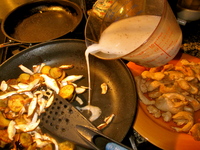 Any vegetable that strikes your fancy could be substituted for the eggplant and shiitakes: carrots, baby corn, water chestnuts, bok choy or broccoli come to mind. As far as the protein, slivered beef or tofu may be substituted for the chicken.
I had 1/2 of a package of Asian rice noodles in my cupboard - I think they must be at least a year old. I cooked them according to package directions and they were delicious tossed with the stir-fry. Rice would be a fine substitute, as well.
Time: 40 minutes
Number of servings (yield): 2-3 servings
Ingredients
2 1/2 tablespoons soy sauce
1/2 tablespoon rice wine vinegar
1 tablespoon sherry or Madeira
1- 1 1/4 pounds boneless, skinless chicken breasts, thinly sliced
1 cup chicken or mushroom stock
1 1/2 tablespoons cornstarch
3 tablespoons peanut or sesame oil
2 small eggplant, ends trimmed and sliced into 1/4-inch thick coins (2 cups)
3-4 ounces shiitake mushrooms, cleaned and sliced
1 teaspoon minced garlic
1 tablespoon grated fresh ginger
2 tablespoons chopped peanuts
Chopped cilantro, optional
Red pepper flakes, optional
Instructions
Whisk together soy sauce, rice wine vinegar and sherry or Madeira on a large platter. Let chicken sit in marinade while you prep the remaining ingredients, turning once to coat both sides. Combine cornstarch and stock and reserve.
Heat 2 tablespoons of the oil to high heat and cook chicken 1-2 minutes per side until just cooked through. Remove and reserve.
In same pan, reduce heat to medium high, add additional tablespoon oil, then stir-fry eggplant 2-3 minutes or until just browned. Add shiitakes and stir fry another minute. Then add stock mixture, garlic, ginger, reserved chicken and peanuts and cook 2 additional minutes, stirring.
Garnish with cilantro, red pepper flakes, and/or chopped peanuts, if using.
Peggy Lampman is a real-time food writer and photographer posting daily feeds on her website and in the Food & Grocery section of Annarbor.com. You may also e-mail her at peggy@dinnerfeed.com.