Posted on
Tue, Jan 31, 2012 : 8 a.m.
Strawberry jam muffins were inspired by a tasty rhyme
By Mary Bilyeu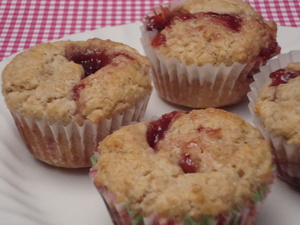 Mary Bilyeu | Contributor
Sometimes I go on baking sprees, and I seem to be in the midst of one right now. Recently, I've written about Peach Pudding Cake with Brown Sugar Sauce and about an Orange-Glazed Pumpkin Loaf Cake. Today's offering is a simple muffin, but with the added brightness — both for flavor and color — of strawberry jam.
The inspiration for the muffins came from a cute poem found in a book that my very dear friend Marilyn gave me for my birthday — "A Taste of Rhyme" by Ann Arbor's own Marvin Brandwin:
Muffins
Coffee and a muffin are a perfect combination
Early in the morning or at any other time of day.
Although pastry, cake, and pie all rate a commendation
It's the muffins that excel in the art of taste creation,
And are the favored gems in every bakery display.
Choices to explore are walnut, raisin, bran, and cherry.
Each can be relied on to deliver eating pleasure.
But strawberry, blueberry, and other kinds of berry
Bring muffins to the height of satisfaction culinary.
Combine them with coffee to discover berried treasure.
Mr. Brandwin speaks truth — coffee and a muffin is such a simple joy!
Strawberry Jam Muffins
1/3 cup butter, softened
1/2 cup brown sugar
1 egg
1 cup flour
1/2 cup whole wheat flour
1/2 teaspoon kosher salt
1/4 teaspoon cinnamon
1 cup vanilla yogurt
3/4 cup strawberry jam
Preheat oven to 350 degrees. Line a 12-cup muffin tin with paper liners
In a large bowl, combine butter and brown sugar; stir in egg. Stir in flours, salt and cinnamon. Stir in yogurt.
Divide 2/3 of the batter among the lined muffins cups. Divide the jam among the muffins, keeping it to the center. (If too much jam gets to the edge, the muffins stick to the liner and are difficult to remove. The jam also then has a tendency to leak over the edge of the muffin, causing it to stick to the tin as well. Trust me on this.) Top with the remaining batter.
Bake for 25-30 minutes, until a tester inserted into the center comes out clean. Let the muffins cool before removing them from the tin.
Makes 12 muffins.

Mary Bilyeu writes about her adventures in the kitchen - making dinner, celebrating holidays, entering cooking contests ... whatever strikes her fancy. She is also on a mission to find great deals for her Frugal Floozie Friday posts, seeking fabulous food at restaurants on the limited budget of only $5 per person. Feel free to email her with questions or comments or suggestions: yentamary@gmail.com.
You should also visit Mary's blog — Food Floozie — on which she enthuses and effuses over all things food-related.


The phrase "You Should Only Be Happy" (written in Hebrew on the stone pictured in this post) comes from Deuteronomy 16:15 and is a wish for all her readers - when you come to visit here, may you always be happy.