Posted on
Wed, Jun 19, 2013 : 12:30 p.m.
Strawberry rhubarb bread pudding - spicy and sweet dessert makes most of spring fruit
By Mary Bilyeu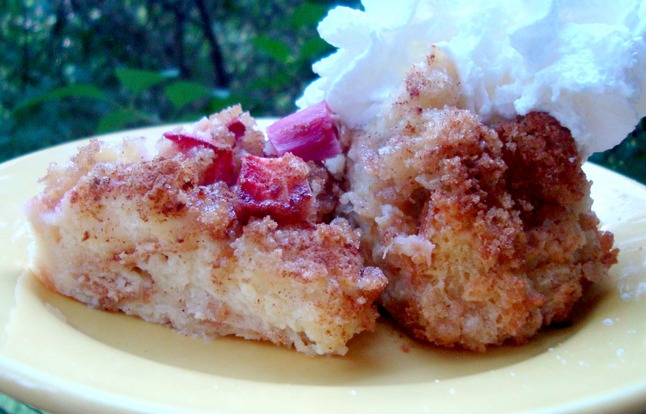 Mary Bilyeu | Contributor
With leftover
rhubarb
, a few remaining
strawberries
, half a baguette, and the last dribble of orange marmalade staring me down, I debated my options. I am not a girl who wastes food; I re-purpose it.
Pope Francis
even noted recently, speaking in St. Peter's Square, that "Our grandparents used to make a point of not throwing away leftover food. Consumerism has made us accustomed to wasting food daily and we are unable to see its real value."
These tidbits weren't sufficient to contribute to a meal; the bread was quite firm, in fact, and wouldn't have been edible as it was.
But each of these forlorn ingredients contributed beautifully to my dessert.
I thought about creating something novel and innovative, but ultimately I gave in to my favorite — bread pudding. It's classic, and I love it. I had everything I needed to make it. And so, I did.
Sweet and spicy, with hints of tartness and color sprinkled throughout, this is a stellar springtime dessert.
Strawberry-Rhubarb Bread Pudding
3 eggs
1/3 cup confectioners' sugar
1/3 cup sugar
1/4 cup orange marmalade
1 tablespoon minced candied ginger
1-1/2 cups half-and-half
half a baguette, torn into 1 and 1/2-inch pieces
2 stalks rhubarb, cut into 1/2-inch pieces
1/2 cup finely chopped strawberries
1/3 cup brown sugar
1/4 teaspoon cinnamon
Preheat oven to 375 degrees. Grease a 10-inch round baking dish.
In a large mixing bowl, whisk together eggs, confectioners' sugar, sugar, marmalade, ginger, and half-and-half. Add the bread and soak for 5 minutes. Add the rhubarb and strawberries; soak for 5 more minutes.
Pour the bread mixture into the prepared baking dish. Sprinkle with brown sugar and cinnamon.
Bake for 30-35 minutes until pudding is puffed and golden, and a knife inserted into the center comes out clean. (Pudding will deflate as it cools.)
Serves 8-10.

Mary Bilyeu - a self-proclaimed Food Floozie (named for her blog, which is taking a summer vacation) - writes for AnnArbor.com on Tuesdays, Wednesdays, and Fridays, telling about her adventures in the kitchen ... whatever strikes her fancy. She is also on a mission to find great deals for her Frugal Floozie Friday posts, seeking fabulous food at restaurants on the limited budget of only $5 per person. Feel free to email her with questions, comments, or suggestions: yentamary@gmail.com.

The phrase "You Should Only Be Happy" (written in Hebrew on the stone pictured in this post) comes from Deuteronomy 16:15 and is a wish for all her readers - when you come to visit here, may you always be happy.