Posted on
Wed, Jun 13, 2012 : 8 a.m.
Strawberry rhubarb crisp is consummate comfort food
By Mary Bilyeu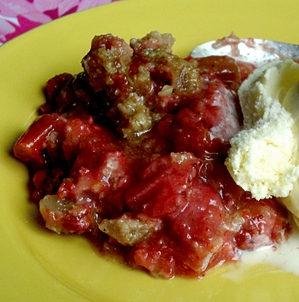 Mary Bilyeu | Contributor
I debated whether to make a grand and glorious, unique and creative dish with the rhubarb I bought at the Dixboro Farmers' Market this past Friday. But the universal cry among those who would share in the bounty was "Strawberry Rhubarb Crisp."
You'd have thought they'd turn into an angry mob, they were so vehement! To them, there were no other options.
And so I made this crisp, which I inevitably turn to because it's a classic. And classics earn their merit by being reliable, easy to make, and delicious without fail — no wondering if a dessert will rise or set, no wondering if spices will be too extreme, no wondering if flavors just won't blend well together.
Strawberries offset the tartness of the rhubarb. Rhubarb and candied ginger add zest to the sweetness of the dish. And the rich, buttery, crumbly topping unites it all and provides texture and crunch.
This is a perfect dessert now that the summery season has begun. Don't let its simplicity fool you into thinking that it's ordinary. This Strawberry-Rhubarb Crisp is consummate comfort food!
Strawberry-Rhubarb Crisp
2-1/2 cups chopped rhubarb
1 quart strawberries, chopped
1/4 cup sugar
1 tablespoon cornstarch
1/3 cup white whole wheat flour
1/3 cup brown sugar
1 packet instant Cinnamon and Spice oatmeal
1 tablespoon minced candied ginger
1/3 cup butter, melted
Preheat oven to 350 degrees. Grease a 9- or 10-inch pie pan.
In a large bowl, combine the rhubarb, strawberries, sugar, and cornstarch; place into the pie pan.
In the same bowl (why wash another dish?), combine the flour, brown sugar, oats, and ginger; pour the butter over the mixture and combine well. Spread the oat mixture over the fruit.
Bake for 35 minutes, 'til bubbling and golden.
Serves 8-10. Serve warm with vanilla ice cream.

Mary Bilyeu
writes about her adventures in the kitchen - making dinner, celebrating holidays, entering cooking contests ... whatever strikes her fancy. She is also on a mission to find great deals for her Frugal Floozie Friday posts, seeking fabulous food at restaurants on the limited budget of only $5 per person. Feel free to email her with questions or comments or suggestions:
yentamary@gmail.com
.
You should visit Mary's blog — Food Floozie — on which she enthuses and effuses over all things food-related. And be sure to look for her monthly articles about holiday foods and traditions in the Washtenaw Jewish News.
The phrase "You Should Only Be Happy" (written in Hebrew on the stone pictured in this post) comes from Deuteronomy 16:15 and is a wish for all her readers - when you come to visit here, may you always be happy.