Posted on
Sat, Nov 26, 2011 : 7:03 a.m.
Strawberry shortcake reimagined as a cookie
By AnnArbor.com Staff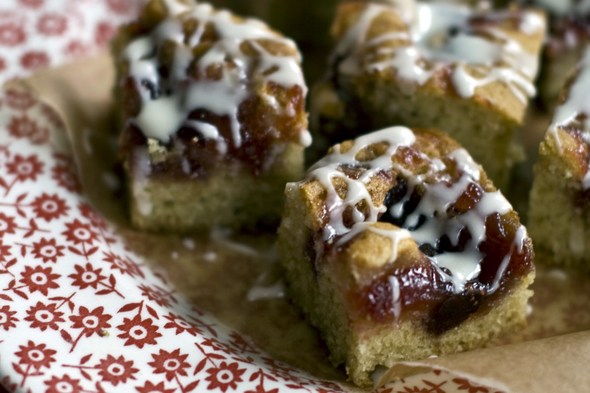 AP Photo | Matthew Mead
ALISON LADMAN, For The Associated Press
The simplicity of strawberry shortcake is what makes it such a winning dessert. A biscuit (or cake), fresh strawberries and whipped cream are all it takes. We stuck to the basics to make a cake-like cookie bar, swirled with strawberry jam and drizzled with vanilla ice cream. Be sure not to over bake these bars to avoid drying them out.
STRAWBERRY SHORTCAKE BARS
Start to finish: 45 minutes (15 minutes active), plus cooling
Servings: 16
For the bars:
1/2 cup granulated sugar
1/2 cup (1 stick) butter, melted
2 eggs
1/2 teaspoon salt
1 teaspoon vanilla extract
1 1/2 cups all-purpose flour
1/2 teaspoon baking soda
1/2 cup strawberry jam
For the icing:
1 cup powdered sugar
2 teaspoons vanilla extract
2 tablespoons milk or cream
Heat the oven to 350 F. Line a 9-by-9-inch baking pan with foil, allowing a couple inches of excess to extend past the sides of the pan. This will help for removing the bars from the pan.
In a medium bowl, whisk together the granulated sugar and butter. Add the eggs, one at a time. Add the salt and vanilla and stir to combine.
Stir in the flour and baking soda until well mixed. Spread the mixture into the prepared pan. Spoon the strawberry jam over the dough. Drag a knife through the dough and jam, swirling the jam into the dough. Bake for 20 to 25 minutes, or until golden and a wooden pick comes out clean. Allow to cool in the pan.
To make the icing, in a small bowl whisk together the powdered sugar, vanilla and milk or cream. Drizzle the icing over the surface of the cooled bars. Allow the icing to set up. Using the foil as handles, lift the bars out of the pan. Peel off the foil and cut the bar into 16 pieces. Store in an airtight container at room temperature.
Nutrition information per serving (values are rounded to the nearest whole number): 170 calories; 60 calories from fat (32 percent of total calories); 6 g fat (4 g saturated; 0 g trans fats); 40 mg cholesterol; 28 g carbohydrate; 2 g protein; 0 g fiber; 110 mg sodium.