Posted on
Fri, Oct 5, 2012 : 4:32 a.m.
Flavor of succotash benefits from using fresh, local produce
By Peggy Lampman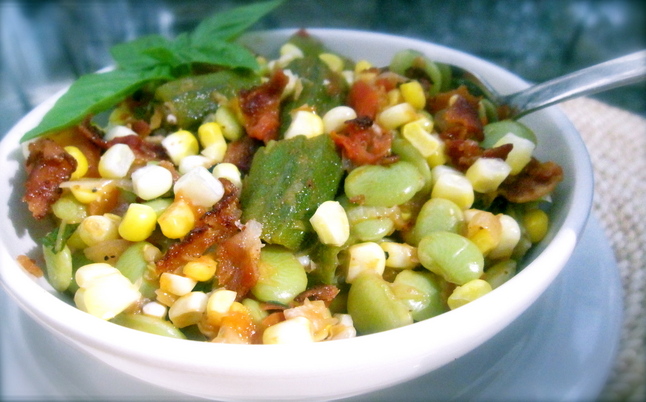 Peggy Lampman | Contributor

My dinnerFeed web site is a lean,
mean fighting machine!
To receive my lastest dinnerFeed posts
by email, sign up here.
Succotash is a traditional stew of the Indian-Americans that is made of fresh corn kernels, lima beans, okra and tomatoes; all ingredients easily found at farm stands this time of the year. Enjoy it while you can because the first frost may be around the corner.
Frozen vegetables make a decent succotash, but there's nothing like using these veggies when they're fresh from the farm. I love okra, but if you're not a fan, substitute eggplant or squash for the slippery critters.
I prefer using using a good smoked bacon in the recipe, but save calories by omitting the bacon and simply sautéeing the vegetables in olive oil. (Frankly, the bacon's my favorite part!)
Active Time: 15 minutes
Simmer Time: 40-45 minutes
Number of servings (yield): 6 side servings
Ingredients
5 slices bacon
1 medium sweet onion chopped
2 cups fresh okra, cut into 1/2-inch pieces
2 cups freshly shucked lima beans
4 medium tomatoes, chopped
1/2-2 cups water, stock or wine
4 cups (4 ears) fresh corn kernels cut from the cob
1 teaspoon minced garlic
1/2 cup fresh basil
Instructions
1. Cook bacon in a large skillet over medium high heat until crisp. Remove bacon, reserve, and add onion to bacon fat. Sauté over medium heat, stirring, about 3 minutes.
2. Add okra and simmer an additional 5 minutes. Then add tomatoes and lima beans and simmer mixture until vegetables are just tender, about 20-30 minutes. Add stock, wine or water in 1/2 cup increments when mixture becomes dry.
3. When vegetable are just tender, stir in corn and garlic and simmer an additional 5 minutes. Crumble reserved bacon over the top and serve.

Peggy Lampman is a real-time food writer and photographer posting daily feeds on her website and in the Food & Grocery section of Annarbor.com. You may also e-mail her at peggy@dinnerfeed.com.