Posted on
Wed, Dec 5, 2012 : noon
Sugared shortbread cookies - simple but festive holiday treats
By Mary Bilyeu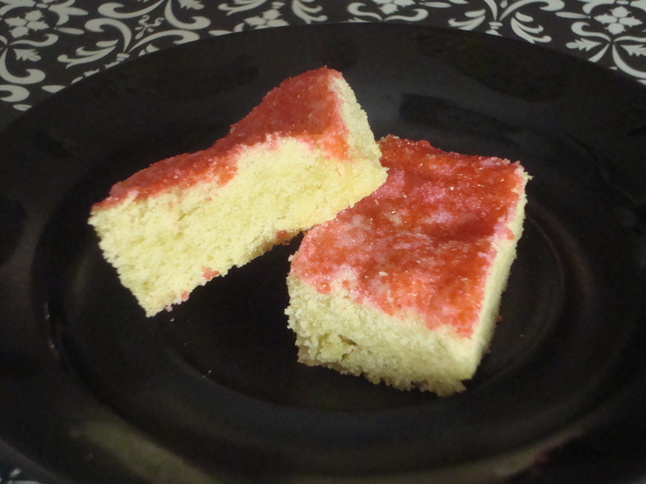 If I had to pick a favorite cookie — though really, my life would have to be at stake to be able to do this! — I think I would say "shortbread cookies." Rich, buttery, and crumbly, they are simple perfection.
But just because shortbread cookies are simple doesn't mean they have to be boring or plain. Stir in some candied ginger, some oatmeal, a hint of cardamom, or even some leftovers of other cookies. Shortbread will make friends with many, many flavors.
Today's version is pure and unadulturated, merely decorated with colored sugar to make it festive for the season. Whether sharing this as a gift, or rewarding yourself with a treat, shortbread is always ideal.
Sugared Shortbread Cookies
1/2 cup butter, softened
1/2 cup shortening, softened
1/2 cup + 1 tablespoon sugar
1 egg
1/2 teaspoon kosher salt
1 tablespoon brandy or pure vanilla extract
2 cups flour
3 tablespoons red sugar crystals
Preheat oven to 325 degrees. Grease a 9x9-inch baking pan.
In a large bowl, cream together the butter, shortening, and 1/2 cup sugar. Stir in the egg, salt, and brandy (or vanilla). Stir in the flour.
Press the dough into the prepared pan. Combine the red sugar and the remaining 1 tablespoon sugar; sprinkle over the dough and press lightly.
Bake for 40 minutes, until shortbread is golden. Let cool completely.
Trim 1/4 inch off the edges of the shortbread. Cut into 6 columns, and then into 4 rows.
Makes 24 shortbread cookies.

Mary Bilyeu writes for AnnArbor.com on Tuesdays, Wednesdays, and Fridays, telling about her adventures in the kitchen - making dinner, celebrating holidays, entering cooking contests, meeting new friends ... whatever strikes her fancy. She is also on a mission to find great deals for her Frugal Floozie Friday posts, seeking fabulous food at restaurants on the limited budget of only $5 per person. Feel free to email her with questions, comments, or suggestions: yentamary@gmail.com.

Go visit Mary's blog — Food Floozie — where she enthuses and effuses over all things food-related; and look for her monthly articles in the Washtenaw Jewish News. "Like" her on Facebook, or send a tweet on Twitter, too.

The phrase "You Should Only Be Happy" (written in Hebrew on the stone pictured in this post) comes from Deuteronomy 16:15 and is a wish for all her readers - when you come to visit here, may you always be happy.