Posted on
Tue, Oct 18, 2011 : 4:59 p.m.
Summer rolls (or autumn rolls) with tofu and spicy peanut sauce
By Anne Savage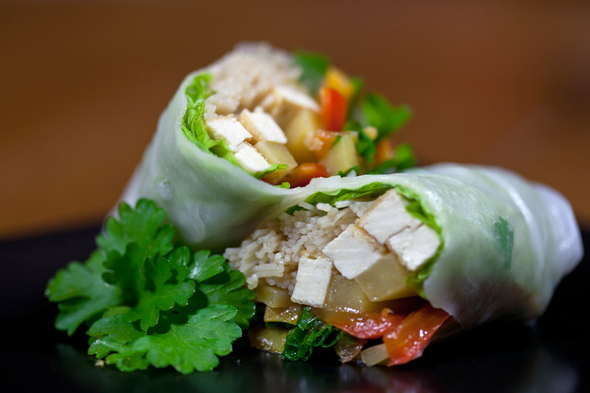 Anne Savage | Contributor
Frankly I'm not real clear on the difference between
summer rolls
and spring rolls other than the season in which they are made, so maybe I should call these rolls autumn rolls because they are made from produce I picked in autumn.
If you google the term "summer roll," you will see that the filling is a little different in each recipe, so play around with the filling and add stuff you like or have in your garden.
The difference between my recipe and most other summer roll recipes is that I cook some of the harder vegetables until they are soft. This does two things. First, by cooking them, I can add an Asian flavor to the vegetables with sesame oil, coconut milk and other things. Also, cooking softens the vegetables, which helps ensure that they won't poke through the delicate rice paper wrappers when you roll them.
Summer (Autumn) Rolls
Makes approx. 12 rolls
Ingredients:
1/2 pound tofu
3 tablespoons soy sauce
2 tablespoons toasted sesame seed oil
12 round rice paper wrappers
2 ounces fine rice noodles
2 cloves of garlic, minced
1/4 cup coconut milk
2 teaspoons rice vinegar
1 teaspoon sugar
2/3 cup chives cut in 2-3 inch lengths
1/2 cup coarsely chopped cilantro
2 carrots, julienned
1 bell pepper (red, orange, yellow), julienned
12 Bibb lettuce leaves or other soft lettuce leaves.
Directions for filling:
Slice the tofu into four slices, wrap in paper towels and press to remove excess water.
Heat one tablespoon of sesame oil in a pan over medium heat. Place the four tofu slices in the heated oil and cook until lightly browned on both sides. For the last minute of cooking add a tablespoon of soy sauce. Remove tofu from the pan and place the slices on a paper towel to cool. Cut the tofu slices into strips and set aside.
Heat a tablespoon of sesame oil in a pan over medium heat. Add the julienned carrots and pepper and saute for a few minutes. Add minced garlic, coconut milk, rice vinegar, sugar and 1 tablespoon of soy sauce. Cook until liquid is reduced, stirring occasionally. Remove from heat and set aside to cool.
Put 2 ounces of rice noodles and a tablespoon of soy sauce in a bowl and add boiling water until noodles are covered. Let sit for 15 minutes. Drain water right before making the rolls.
Directions for making rolls:
For more photos on how to assemble these click HERE.
Set out the tofu, pepper and carrot mixture, lettuce, chives and cilantro for assembling the rolls.
Start with a round dish, such as a pie plate, large enough to hold the wrappers. Fill it with warm water. Place a wrapper in the water and keep your fingers in contact with it. You can feel when the wrapper begins to become pliable. This takes around 15 seconds, but I rely on touch and not the clock. Insufficient soaking and the wrapper will remain somewhat brittle and crack. Too much and it becomes mushy and tears. After a little practice you'll be able to sense just the right point with touch.
With both hands carefully remove the wrapper from the water and lay it flat on a clean moist towel or cloth napkin. Add the filling toward the top third of the wrapper. Start with a Bibb leaf then some rice noodles, tofu, peppers, carrots, chives and cilantro. Eyeball the amounts so that they are equally divided over the 12 rolls. Do not overfill and do not line the fillings all the way to the edges. Save an inch or so at each end.
While holding the filling tightly with your thumbs, fold the top of the rice paper over. Fold over the sides of the wrapper where you left an inch space to close the ends and then proceed to roll the remainder. I find that keeping my fingers moist with water helps. The bottom of the wrapper will stick somewhat to the towel. As you roll you can tug it somewhat, using its adherence to make the roll tighter. Be careful not to pull too tight or the wrapper will rip. Place finished rolls on a plate, seam side down, and cover with a moist towel until it's time to serve.
Finish wrapping the remaining rolls and serve with the sauce below.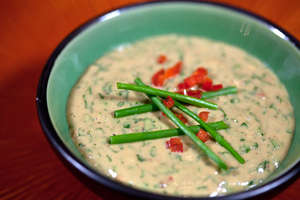 Anne Savage | Contributor
Spicy Peanut Sauce
1/4 cup finely chopped fresh cilantro
1/2 cup peanut butter
1/2 cup warm water or vegetable broth
1 tablespoon brown sugar
2 teaspoons soy sauce
1-2 jalapenos, seeded and minced or 1 teaspoon of hot pepper flakes
Combine all the ingredients and whisk till combined.
For more photos including instructional photos or to print this recipe, click here, or go to The Savage Feast for additional recipes or to subscribe. You can also follow The Savage Feast on Facebook!
Anne Savage is a professional photographer living in Dexter. She specializes in food photography and is an experimental cook and avid gardener. Much of her food photography and many of her recipes can be found at http://thesavagefeast.com.