Posted on
Mon, Jul 1, 2013 : 4:18 p.m.
Sun-kissed Tomato-Basil Angel Hair - pasta salad can survive 4th of July picnic
By Peggy Lampman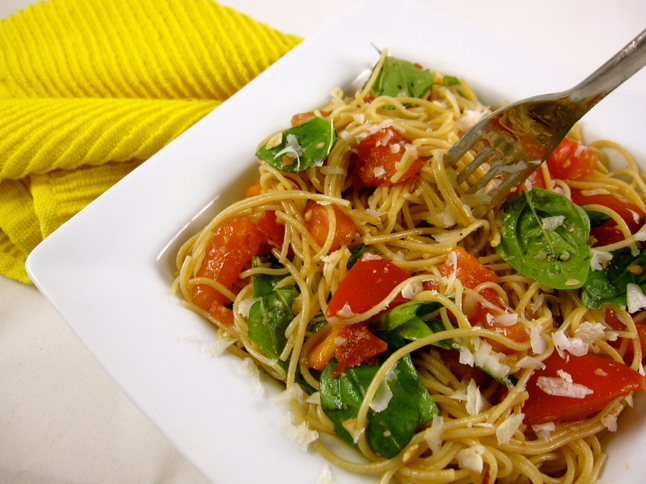 Peggy Lampman | Contributor

To receive my lastest dinnerFeed posts
by email, sign up here.
Here's a light, yummy pasta salad, and sunshine is a main ingredient.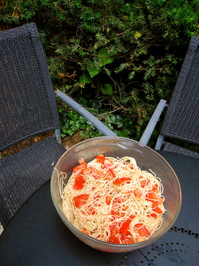 Letting the tomatoes and pasta bask in sunlight enhances the flavor of both. The acidity in the vinegar and tomatoes is a barrier for food-borne illness, making this salad perfect for a Fourth of July picnic. Note, however, I'd advise keeping the garlic and parmesan refrigerated or in a cooler then tossing them into the mix just before serving.
Studies have shown that a compound in garlic fights campylobactor, the most common bacterial cause of food-borne illness. That may be so, but having worked most of my life under the nose of the Washtenaw County Health Department, I've always been taught that since garlic is a low-acid vegetable, when left at room temperature, bacteria multiplies rapidly. I'm no scientist, but to be on the safe side, I don't eat raw garlic that's been at room temperature more than an hour.
The basil discolors when it sits in the sunlight, so that's a last minute addition, as well. Torn basil leaves give the salad a more rustic look with a larger basil bite, but it's more time-consuming to tear the individual leaves. Chop the basil or slice into a chiffonade (ribbons) if desired. I much prefer the fresh taste of pasta salads such as this, to mayo-laden, thick noodled salads.
Click here for some great ideas for the Fourth.
Yield: 4 servings
Sunshine Time: 1-2 hours
Active Time: 20 minutes
Ingredients:
1 pound angel hair pasta*, broken into thirds
2 tablespoons balsamic vinegar
3 tablespoons extra virgin olive oil
6 cups fresh diced tomatoes and their juices
1/2 teaspoon red pepper flakes
1 teaspoon black pepper
1 scant teaspoon finely chopped garlic
1 cup fresh cut or torn basil
1-1 1/2 cups freshly grated Parmigiani Reggiano
*I used half whole wheat and half egg angel hair
Directions:
1. Bring a large pot of salted water to a boil; cook pasta according to package instructions, or to your desired level of doneness.
2. In a large bowl, whisk balsamic vinegar into oil. With clean hands, mix tomatoes and pasta into vinaigrette. If time allows, let sit in sunlight an hour or two, remixing once or twice.
3. When ready to serve, toss with peppers, garlic, basil and a cup of Parmesan. Season to taste with kosher salt and additional Parmesan, if desired.
Peggy Lampman is a real-time food writer and photographer posting daily feeds on her website and in the Food & Grocery section of Annarbor.com. You may also e-mail her at peggy@dinnerfeed.com.