Posted on
Thu, Nov 17, 2011 : 10:30 a.m.
Sunday morning apple, bacon and cheddar scones
By Jessica Webster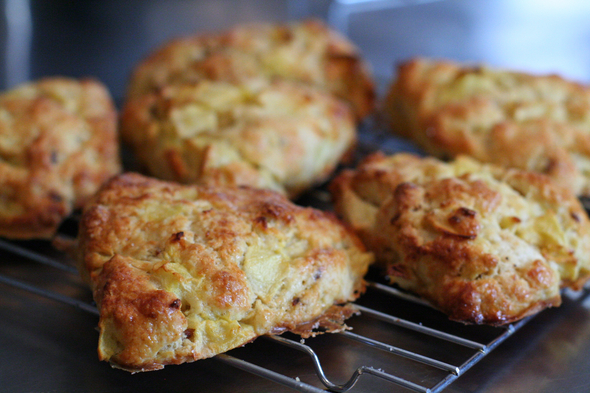 Jessica Webster | AnnArbor.com
Last weekend we had some foodie friends visiting from Cleveland. As we hit the Ann Arbor food hot spots, we got to talking about our favorite fall foods. At some point we discovered that we shared an unhealthy obsession with both Honeycrisp apples and bacon.
We stocked up on both for a big brunch on Saturday, so I had plenty left over on Sunday morning. I started brainstorming about how these apples and bacon could coexist in a single dish. It didn't take long to find a post on one of my favorite food blogs, SmittenKitchen.com.
Deb from Smitten Kitchen raved about a recipe for apple and cheddar scones from a dessert cookbook called The Perfect Finish. Apples and cheese? Nearly perfect. The only thing that could make these even better is bacon!
There are so many things that I love about these scones. They're awfully photogenic, for one. But don't let that fool you. These aren't just some pretty little things with no depth. No, these scones are sweet and savory and fluffy and moist (but not too moist) and crispy at the edges. There's just enough cheese, apples and bacon to give you little nuggets of flavor but not so much that you're spending a lot of time thinking about them.
In fact, all I could think about when eating these scones was: "Yum! Would it be horribly piggy of me to eat another?" I posted a picture of my scones on Facebook, and when friends asked if they could stop by to taste them, I found myself wanting to scarf them down quickly rather than share them. Yes, I'm ashamed to admit that I hoarded my scones. But you make these scones and tell me you don't have the same impulse. Seriously. They are that good.
If you're not a meat or pork eater, the scones are nearly as good without the bacon. And if you don't have a stand or hand mixer handy, Deb suggests rubbing the cold butter into the flour mixture with your fingertips or with a pastry blender, then hand-chopping the cooked apples coarsely and mixing the rest together with a wooden spoon until combined.

Sunday Morning Apple, Bacon and Cheddar Scones
Adapted from SmittenKitchen.com

Makes 6 generous scones



2 firm tart apples (approximately one pound)


1 1/2 cups all-purpose flour


1/4 cup sugar plus 1 1/2 tablespoons for sprinkling


1/2 tablespoon baking powder


1/2 teaspoon salt plus additional for egg wash


6 tablespoons unsalted butter, chilled and cut into 1/2-inch cubes plus additional for baking sheet if not lining it with parchment


1/2 cup sharp cheddar, shredded


2 to 3 slices of cooked, crumbled bacon


1/4 cup heavy cream


2 large eggs


Position a rack at the center of oven and preheat oven to 375 degrees. Line baking sheet with parchment paper.
Peel and core apples, then cut them into one-sixteenths chunks. Place them in a single layer on a baking sheet lined with parchment paper and bake them until they take on a little color and feel dry to the touch, about 20 minutes. They will be about half-baked. Let them cool completely. (You can speed this up in the fridge.) Leave oven on.
Sift or whisk flour, sugar, baking powder and salt together. Set aside. Place butter in the bowl of an electric mixer with a paddle attachment, along with cooled apple chunks, crumbled bacon, cheese, cream and one egg. Sprinkle flour mixture over the top and mix on low speed until the dough just comes together. Do not over-mix.
Generously flour your counter top and place the scone dough on top of it. Sprinkle with flour. Use a rolling pin to gently roll (or use your hands to pat) the dough into a 1 1/4-inch thick, 6-inch circle. Cut circle into 6 wedges. Transfer them to a baking sheet that has either been buttered or lined with a fresh sheet of parchment paper. Leave at least 2 inches between each scone.
Beat remaining egg in a small bowl with a pinch of salt. Brush the scones with egg wash and sprinkle them with remaining tablespoon of sugar. Bake until firm and golden, about 30 minutes. With a spatula, lift them to a wire rack to cool for 10 minutes. Then try not to eat them all in one sitting.
Do ahead: Scones are best the day they are baked, passable the next day, and pretty horrible by the third day. However, they can be made ahead of time and stored unbaked in the freezer until you need them. Simply brush them with the egg wash and sprinkle them with sugar, and bake them still frozen for just a few extra minutes. This way they are always freshly baked when you want them.
Jessica Webster leads the Food & Grocery section for AnnArbor.com. You can reach her at JessicaWebster@AnnArbor.com or by stopping by the AnnArbor.com community space. She'd like to take a minute and wish her dad a happy birthday!