Posted on
Wed, Dec 14, 2011 : 10 a.m.
Supporting our troops past and present: Ann Arbor restaurants have links to military
By Kim Bayer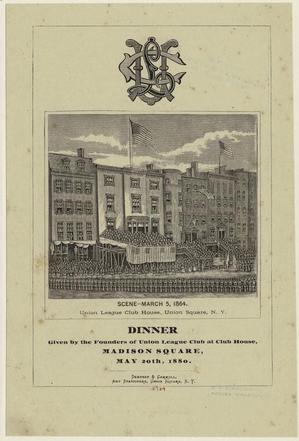 From the New York Public Library
It's almost Christmas, but Chef Dan Vernia at the Ravens Club on Main Street in Ann Arbor is still serving Thanksgiving dinners, once a week, on a large plate with turkey, ham, cornbread, baked beans, greens, a slice of cheese and apple pie (for $16).
For another two weeks, these special Thursday meals commemorate what Vernia calls "A Soldier's Repast." The menu is based on his research at the Longone Culinary Archive, where he discovered the Union League Club of New York's massive 1864 effort to "send a Thanksgiving dinner to the enlisted men of the Northern Army" during the Civil War.
The Union League resolved that "there shall be no soldier in the Army of the Potomac, the James, the Shenandoah, and no sailor in the North Atlantic Squadron who does not receive tangible evidence that those for whom he is periling his life, remember him."
To support the unprecedented effort to provision the troops for Thanksgiving, the Union League needed "the active cooperation of all loyal people in the North and East" upon whom they called for donations of "cooked poultry and other proper meats, as well as for mince pies, sausages and fruit."
One firsthand account reports: "The want of proper appliances compelled most of the men to broil or stew their turkeys, but everyone seemed fully satisfied and appreciated the significance of this sympathetic thank-offering from the loyal North. One soldier said to me, 'It isn't the turkey, but the idea that we care for.'"
Across town, at Silvio's Organic Pizza, the Medoro family is engaged in a modern-day version of supporting the morale and the needs of enlisted men and women, with food and other necessities. One of their twin sons, Giovanni, has been deployed in Afghanistan.
Out in the field and far from a base, his unit subsists on freeze-dried food and is short on basic supplies. The Medoros put out a call for help "We are sending any packaged food, clothing, blankets, and personal necessity items to Silvio's son and his platoon in Afghanistan. Please in this season of generosity, anything would be appreciated!"
Silvio Medoro told me that since, in winter, it might be -20 degrees in the mountains of Afghanistan, he likes to send the type of socks that he uses for ice climbing. And they're hoping to get canned, hearty protein foods in their food drive. Catia Medoro told me that they spent thousands last year, on supplies and postage, to help all the men in Gio's unit.
They could use "the active cooperation of all loyal people in the North and East," but the family seems to have taken to heart Mother Teresa's words, "Do not wait for leaders; do it alone, person to person."
Now that it's no longer in the business of helping the troops, I looked up what the Union League is doing these days. As a hotel with a dress code, "The Union League is a social club providing its members and guests with a quiet sanctuary and relief from the hustle of the city. The dining rooms reflect a subdued elegance with a chef and wine cellar that compare favorably with any in the city or, members can drop by the grill for a light lunch or supper. Members gather cordially for social events, theatre evenings, wine tastings or just to meet friends for a convivial drink at the bar." And so on.
Kim Bayer is a freelance writer and culinary researcher. She would love any news about interesting local food and agriculture efforts. Email her at kimbayer at gmail dot com.