Posted on
Thu, Aug 22, 2013 : 1 p.m.
Sweet and savory meet in this grilled peach and chicken salad
By Jessica Webster
Jessica Webster | AnnArbor.com
I've devoted many paragraphs over the past four years of this column extolling my mother's cooking skills and sharing memories of favorite meals from my childhood. Mom's still an excellent cook, and I often find myself calling her up for advice in the kitchen. But in the past decade or so, something interesting has happened in my parents' kitchen: my dad has become a passionate cook.
More and more often, when I praise my mom for a particularly tasty dish when we're over for dinner, my mom says: "Thank your Dad! This is his recipe."
I suppose it makes sense. Dad's an engineer who spent years inventing and refining manufacturing processes. If you look at cooking as a big chemistry experiment, one where timing and process and ingredient quality is key, then an engineer should be a natural in the kitchen.
One of my favorite recent recipes served by my dad is a deceptively simple salad of grilled peaches and chicken from the Epicurious.com site. I was skeptical at first. Shouldn't we add some pine nuts or slivered almonds? Maybe just a little bit of thinly sliced red onion?
Nope. The ingredients in this salad are just right as they are. The peppery arugula balances out the sweetness of the peaches. The chicken adds texture and protein, and the mustard vinaigrette adds a little bit of fat and interest.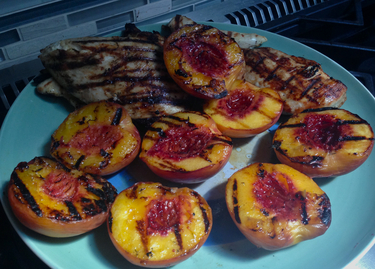 Jessica Webster | AnnArbor.com
I asked my dad if he marinates the chicken before grilling, since boneless, skinless chicken breasts can be notoriously difficult to keep from getting tough or dried out on the grill. Dad's advice was just to brush the chicken with olive oil, salt and pepper and make sure that my grill was nice and hot.
But Dad is a grill master, and I am not. Dad works with a Coleman grill and knows just when the coals are hot enough, knows when it's time to flip the chicken (just once!) and has the instincts to pull it off just at the right moment, when it's still juicy but not pink.
Since I'm far less gifted in that department, I marinated my chicken breasts in a simple lemon juice and olive oil marinade and threw them on my gas grill. They ended up nicely moist and flavorful.
Grilled Chicken and Peach Salad - adapted from Epicurious.com
Marinade
2 tablespoons fresh lemon juice
1 teaspoon salt
1/2 teaspoon freshly ground pepper
2 tablespoons olive oil

Mix the lemon juice, salt and pepper. Whisk in the olive oil. Add the chicken, cover and refrigerate. Let the chicken marinate for 30 minutes.
Salad dressing
1/2 teaspoon salt
1/4 teaspoon freshly ground black pepper
1 tablespoon whole-grain mustard
1 tablespoon apple cider vinegar
1 tablespoon extra-virgin olive oil

Whisk together the first 4 ingredients, then whisk in the olive oil in a steady stream. Toss with the arugula just before serving.
Salad
1 to 2 tablespoons olive oil
1 pound of peaches (about 4 small), halved and pitted
8 cups baby arugula
1 pound boneless, skinless chicken breasts

Heat grill on high; set grill rack 4 to 6 inches above heat source. Grill chicken, turning once, until it reaches an internal temperature of 165 degrees, 5 to 8 minutes each side. Transfer chicken to a cutting board.
Brush peaches with olive oil; lay skin side up on grill grates. Grill, turning once, until juicy but not mushy, 3 to 5 minutes per side.
In a salad bowl, toss dressing with arugula. Divide arugula among 4 plates. Slice chicken and peaches; distribute evenly among plates.
Makes 4 servings
Jessica Webster leads the Food & Grocery section for AnnArbor.com, a part of the MLive Media Group. Reach her at JessicaWebster@annarbor.com. You also can follow her on Twitter or subscribe to AnnArbor.com's email newsletters.