Posted on
Thu, Jan 3, 2013 : 6:32 a.m.
Sweet potato hash the perfect meal for snowy weekend mornings
By Jessica Webster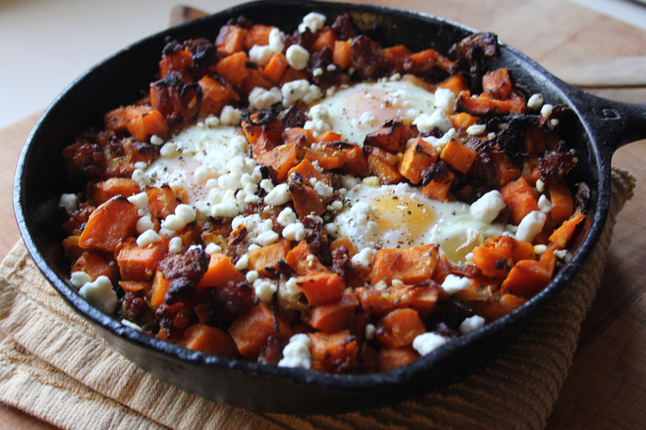 Jessica Webster | AnnArbor.com
Brunch is a meal that seems custom-made for snowy weekend mornings — paging through the newspaper or a novel with a mug of coffee and a plate of scones, or lingering over a Bloody Mary and a savory meal with friends. Heaven.
The conundrum is always that a good brunch involves a significant amount of time invested in the kitchen in the morning. And when it's so cold outside, and so warm and cozy in bed, I'm usually pretty reluctant to get moving with any speed.
This is why recipes like this one, which allow the bulk of the work to be done the night — or several days — before, are perfect.
I've made this recipe a few times now, and it's always a big hit. The sausage and the sweet potatoes play perfectly off each other, and the rosemary adds just enough interest.
Serve it with some fruit and maybe a little bit of crusty bread.
Sweet Potato Hash with Caramelized Onions, Sausage & Eggs adapted from TheKitchn.com
Ingredients
2 large onions
1 tablespoon unsalted butter
Table salt
1 pound loose breakfast sausage (or vegetarian substitute)
3 large sweet potatoes
6 large garlic cloves
4 long stalks rosemary, about 1/4 cup of leaves
3 tablespoons olive oil
2 teaspoons kosher salt, plus more to taste if necessary
Freshly ground black pepper
To serve:
Large eggs
Salt and freshly ground black pepper
1/2 cup crumbled goat cheese (optional)
To make the hash:
Heat the oven to 450 degrees. Peel the onions and cut them in half lengthwise, then cut them into thin half-moons. Cut the half-moons in half. Melt the butter in a skillet over medium-high heat. When it foams up add the onions and sprinkle lightly with salt. (Don't worry if they are crammed into the pan; they will rapidly cook down.) Lower the heat slightly and cook the onions for about 30 minutes, stirring occasionally, and lower the heat further if they start to burn. Cook them until they are soft and brown. Do not let the onions burn.
Meanwhile, put the sausage (or vegetarian sausage) in another skillet and brown over medium-high heat, chopping it up into fine crumbles with a spatula. Cook the sausage for about 10 minutes, or until it is browned and beginning to crisp. Drain away any excess fat.
While the onions and sausage are cooking, peel and then chop the sweet potatoes into 1/2-inch cubes. Finely mince the garlic and rosemary leaves, and toss them in a large bowl with the sweet potatoes. Toss with the olive oil, kosher salt, and a generous helping of black pepper.
When the onions are dark brown and the sausage is crispy, stir these into the sweet potatoes as well. Line a large baking sheet with foil or parchment paper, and spread out the sweet potatoes evenly. Roast the sweet potatoes for 30 to 45 minutes (roasting time depends on the size and uniformity of the sweet potato chunks, as well as the variety of sweet potato you buy) or until they are soft and browned.
Refrigerate the cooled hash for up to 5 days.
To serve:
Heat the oven to 425 degrees. Spread a relatively thin layer of the (already cooked) sweet potato hash in a baking dish, such as a cast iron skillet or a 9x13-inch baking dish. You can also bake in individual ramekins. Make small wells in the sweet potatoes and crack in large eggs. Sprinkle lightly with salt and pepper and scatter the goat cheese over the hash.
Bake for 15 to 20 minutes, or until the sweet potatoes are hot and the eggs are baked through. (Test the eggs by prodding them with a fork to check the firmness of the white and the yolk; baked eggs are deceptive in that the white often looks much less cooked than it really is.)
Serve immediately.
Serves 8
Jessica Webster leads the Food & Grocery section for AnnArbor.com. Reach her at JessicaWebster@annarbor.com. You also can follow her on Twitter or subscribe to AnnArbor.com's email newsletters.