Posted on
Tue, Feb 9, 2010 : 1 p.m.
Sweetwater Tavern - The best wings in the world
By John Moors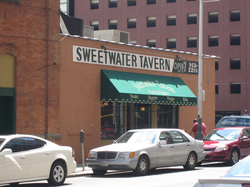 Sweetwater Tavern has the best wings I have ever eaten in my life. They're nothing like any wing I have ever tasted. This isn't some place where you have 857 sauces to choose from. They have one sauce and it's incredible. The outside of the wing is blackened, making it crunchy and flavorful. They're spun in sauce, but they're not saucy. Little to no sauce will be stuck to your hand afterward, yet you can smell the delicious Cajun style seasoning for hours.

The only thing they will tell you is that the wings are delivered daily from Eastern Market and marinated for 24 hours. How they cook the wings is a complete mystery to me. We pestered our waiter during the previous visit and accused him of broiling the wings, but he promised they never touched an oven or boiler.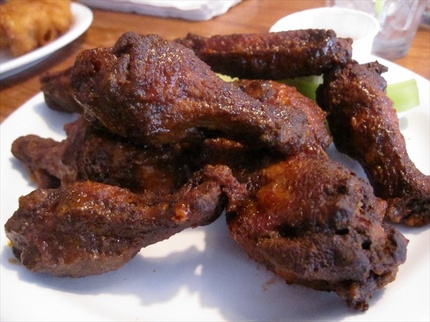 John Moors | Contributor
During previous visits, these wings were the only thing ordered. It just seemed illogical to fill valuable potential stomach space with anything else. This time we brought our appetites, manned up, and ordered something else as well as two orders of wings. Two Reuben sandwiches to be exact. While these were not the biggest sandwiches I've ever had in front of me, the flavor more than made up for it. I can honestly say that if this wasn't the best Reuben I've ever had, it's top three.

My eating companion that night, Todd, is commonly referred to as "Mr. Reuben" and he declared this his number two Reuben of all time. Unlike many places that go heavy on the sauerkraut and light on the rest of the fixings, this sandwich is perfectly portioned. Not one ingredient dominates, allowing them all to fuse together into one delicious sandwich. To make it even better, they serve you the dressing on the side to allow for dunking.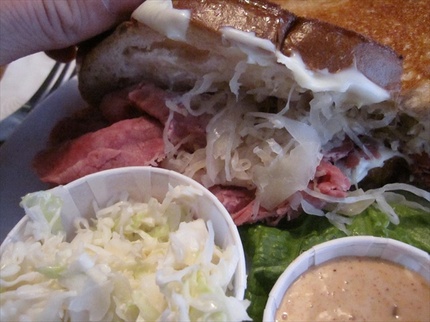 John Moors | Contributor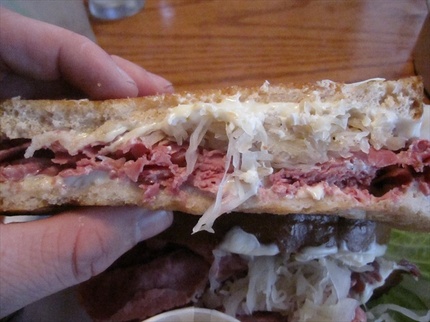 John Moors | Contributor
If you are ever in Detroit, I beg you to eat at Sweetwater Tavern. If you're like me and get watery eyes during a great meal, which my girlfriend finds very strange, you'll find yourself getting emotional here.
Sweetwater Tavern
400 E Congress St
Detroit, MI 48226
(313) 966-2210
John Moors often cries like a little girl during great meals and documents it on his blog at EpicPortions.com. Share your emotional eating stories or just say hello by e-mail at john@epicportions.com, or follow him on Twitter @EpicPortions.