Posted on
Mon, Jun 13, 2011 : 9:41 a.m.
A new take on an old favorite: swordfish souvlaki
By Peggy Lampman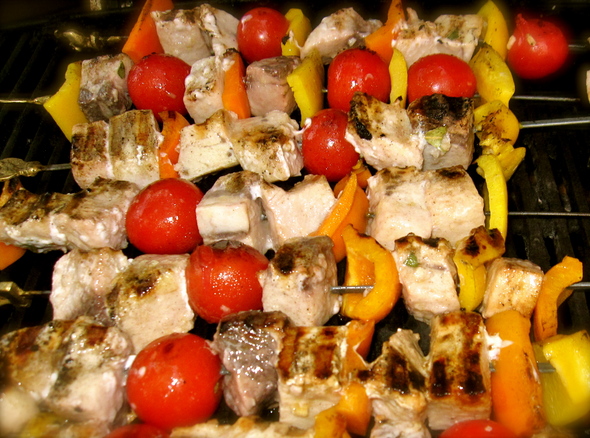 Peggy Lampman | Contributor

Peggy Lampman's Monday dinnerFeed
Souvlaki is basically the Greek meaning for skewered grilled meat or fish (vegetables optional) — what some call shish-ke-bob. Lamb and swordfish are two items often found in classic Greek souvlaki.
I've found Campari tomatoes (select those about 1 1/2 to 2 times as big as a cherry tomatoes) are perfect for grilled kebobs of any type. They take a bit longer to cook, so the opportunity for them to explode as the meat or fish cooks is lessened.
This recipe is lovely served with steamed rice and pita bread.
Swordfish Souvlaki
Yield: 6 servings (10-20 kebobs depending on length of skewers)
Active time: 40 minutes
Marinating time: 30 minutes to 3 hours
Ingredients
1 cup of extra virgin olive oil
1/2 cup of freshly squeezed lemon juice
2 teaspoons oregano
2 tablespoons of minced garlic
3 pounds of swordfish, skin removed and cut into 1 1/2 inch cubes
24 Campari tomatoes
1 yellow bell pepper, seeded, membranes removed, cut into squares
1 orange bell pepper, seeded, membranes removed, cut into squares
Directions
1. Whisk together olive oil, lemon juice, oregano and garlic until emulsified. Season to taste with kosher salt and freshly ground pepper. Pour into a gallon resealable plastic bag or a dish large enough to accommodate the swordfish.
2. Place swordfish cubes into bag or bowl. Seal bag and turn several times until the fish is well coated or place in bowl, stir, and cover in plastic wrap. Marinate outside the refrigerator for half an hour, or refrigerate for 2-3 hours, turning the bag or stirring contents of bowl occasionally.
3. Heat gas or charcoal grill to medium-high heat. String kebobs, alternating swordfish, tomatoes and peppers, onto skewers. On a clean, well-oiled cooking grate, grill 8 to 12 minutes, turning skewers cook evenly. Swordfish is done when a white substance appears on the fish.
Looking for a specific recipe? Click here for dinnerFeed's recipe search engine; type the recipe or ingredient into the search box. I am a real-time food writer and photographer posting daily feeds on my website and in the Food & Drink section of Annarbor.com. You may also e-mail me at peggy@dinnerfeed.com.