Posted on
Wed, Sep 11, 2013 : 8 a.m.
Syl's mandel bread
By Mary Bilyeu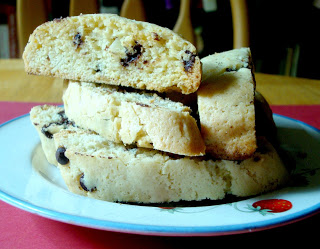 Mary Bilyeu, Contributor
You say "biscotti," I say "mandelbrot."
According to Wikipedia: "The Yiddish word mandelbrodt literally means almond bread." But not every version contains almonds; the term has simply come to encompass any variety of the traditional treat that's baked as a log, sliced, and then baked again to crisp each individual cookie a bit.
I've been going through Craig's late mother's recipes, and particularly focusing on the handwritten ones (such as the family favorite Helen's Apple Cake). Craig's father, Sid, says that some of those recipes come from several generations back, though he unfortunately doesn't particularly know which ones were passed down from which relatives.
But that doesn't matter so much as knowing that these are a legacy. And the treats prepared from these treasured family recipes are ones that Craig would have enjoyed when his mom baked them, as they were both noted for having a sweet tooth.
Craig's Aunt Syl, his mother Helen's twin sister, seems to have been a particularly noted baker. And her recipe for mandelbrot - Anglicized to "Mandel Bread" - is excellent. I've prepared a lot of biscotti and mandelbrot in my many years of baking, and this one is absolutely the easiest to mix, to shape, and to slice that I've found. The finished cookies aren't too crisp, either, as some variations on this treat require dunking rather than merely being enhanced by a dip into coffee or wine; these can be eaten "as is."
And, best of all, the mandelbrot taste really great, too!
Syl's Mandel Bread (procedure slightly adapted)
2 eggs
1/4 cup oil
1 cup sugar
1 teaspoon vanilla
2 cups flour
2 teaspoons baking powder
1/2 cup mini chocolate chips
1/3 cup sliced almonds, chopped

Preheat oven to 350F. Grease a baking sheet.
In a large mixing bowl, beat together eggs, oil, sugar, and vanilla. Mix in 1 cup flour along with the baking powder; "the dough will be thick." Stir in the chocolate chips and the almonds, then stir in the remaining 1 cup flour.
Divide the dough in half. With damp hands, place one half onto the prepared baking sheet and shape into a long log about 12" long; repeat with remaining half, keeping the logs several inches apart to allow for spreading.
Bake for 25 minutes until lightly golden. Carefully, with two spatulas, remove each log to a cooling rack and let rest for 10 minutes, then place onto a cutting board and slice diagonally at 1/2" intervals. Place cookies cut-side up back onto the baking sheet and bake for 5 more minutes. Let cool completely.

Mary Bilyeu - a self-proclaimed Food Floozie (named for her blog, which is taking a summer vacation) - writes for AnnArbor.com on Tuesdays, Wednesdays, and Fridays, telling about her adventures in the kitchen. She is also on a mission to find great deals for her Frugal Floozie Friday posts, seeking fabulous food at restaurants on the limited budget of only $5 per person. Feel free to email her with questions, comments, or suggestions: yentamary@gmail.com. The phrase "You Should Only Be Happy" (written in Hebrew on the stone pictured in this post) comes from Deuteronomy 16:15 and is a wish for all her readers - when you come to visit here, may you always be happy.