food & drink:

Take a culinary trip to New Orleans with a Mardi Gras jambalaya

Posted on Sat, Feb 13, 2010 : 10 a.m.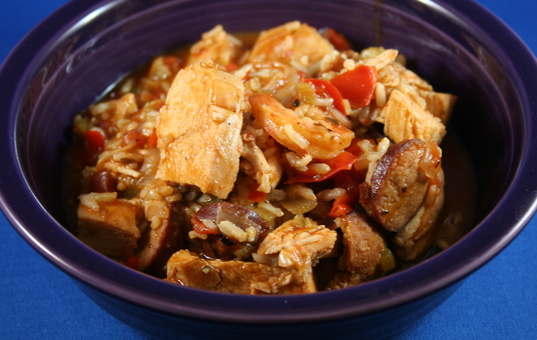 Jessica Webster | AnnArbor.com
"New Orleans food is as delicious as the less criminal forms of sin." - Mark Twain
Whether it's called Shrove Tuesday, Carnaval, Mardi Gras, Paczki Day or Pancake Day, many cultures set aside the day before Lent begins as a day for celebrating food.
I've been in a real New Orleans mood for the last few weeks as we cheered the Saints on to their Super Bowl win. And you want to talk about a culture that celebrates food? You'd be hard pressed to find a city in America that is more passionate about food than New Orleans.
Gumbo, étouffée, po' boys, creoles, jambalaya, grilliades and red beans and rice are all the product of the mash up of French, Spanish and Caribbean cultures that make up New Orleans' culinary history. You can try many of these (and more) on Tuesday night for a special Mardi Gras dinner at Zingerman's Roadhouse. Or if you're feeling a little adventurous in the kitchen, you can make your own Mardi Gras feast at home.
My current favorite New Orleans meal to cook at home (and probably one of the easiest) is jambalaya. What's attractive to me about jambalaya is the same thing that makes making chili so much fun - the whole mad scientist/kitchen sink aspect of it. You can take a basic jambalaya recipe and alter it to suit your taste and mood.
The basic ingredients of jambalaya are andouille sausage, the holy trinity of onions, green peppers and celery, some seafood or poultry (or a combination of both), long-grain rice, broth and seasonings. I like mine extra-spicy, so I often roast poblano and jalapeño peppers and add them in with the rest of the vegetables. In an effort to choose more healthy grains, I've been making my jambalaya with brown rice, which increases the simmer time to closer to 50 minutes (and, according to my friend Cecile, would get me laughed right out of Louisiana).
RAGIN' CAJUN JAMBALAYA from Cooks.com
1 lg. onion, chopped
2 garlic cloves, crushed
1/2 c. chopped celery
1 lg. bell pepper, finely chopped
1 1/2 lbs. sliced sausage (kielbasa or andouille)
2 lbs. cooked shrimp, chicken, crawfish, or any combination
2 tbsp. olive, vegetable oil, or bacon drippings
1 c. fresh, chopped tomatoes, optional
1 1/2 c. uncooked long grain rice
3 c. chicken or seafood stock
1 tsp. salt
1/2 tsp. onion salt
1 tsp. black pepper
1 tsp. white pepper
1 tsp. cayenne pepper
1 tsp. thyme
1 tbsp. file
1 tsp. oregano
2 bay leaves
Tabasco or Louisiana hot sauce to taste
Wimps may use 1/2 teaspoon each of black, white and cayenne pepper; "Cajuns" may use 2 teaspoons each.
In a large, heavy pot on medium to medium high temperature, saute sausage in oil until well browned; drain well. Add chopped onion, garlic, celery and bell pepper, saute until almost tender. Add seasonings and continue to saute for 1 minute. If desired add fresh, chopped tomatoes. If using chicken, add cooked chicken pieces to take up flavors. Add chicken or seafood stock and rice. Turn heat down to gentle simmer and cover for about 20 to 25 minutes. If using cooked shrimp or crawfish, add at the end of cooking time to prevent breaking down. Add hot sauce to individuals taste. Serve with favorite wine and french bread.