Posted on
Wed, Jan 30, 2013 : noon
Tell us where you get your favorite hot chocolate
By Jessica Webster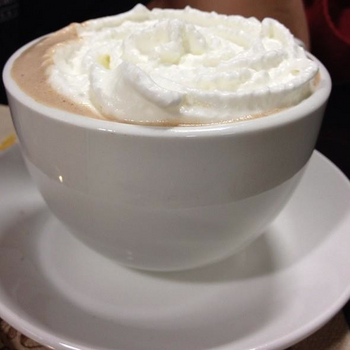 Jessica Webster | AnnArbor.com
For thousands of years — before Hershey, before Cadbury — chocolate was consumed as a drink. And not just any drink. Considered magical by some cultures, worth fighting wars over in others. Aztec emperor Montezuma II allegedly drank 50 golden goblets of it every day (that guy knew how to live!)
Here in 21st century America, we tend to take our drinking chocolate for granted. Maybe we enjoy a nice mug of drinking chocolate during the winter months. We'll make it with hot water and a packet of instant mix, or we will carefully blend frothed whole milk with melted chocolate drops. We'll top it with whipped cream or marshmallows. We've all got our favorites.
Tomorrow is evidently National Hot Chocolate Day. What better way to celebrate the rich history of this drink than to tip back a hot steaming mug of your favorite hot chocolate? And to make us appreciate it even more, the temperatures are predicted to plunge back down into the 20s. We'll need some hot cocoa to warm us up.
Last year, Food & Wine magazine listed the Mindo Hot Chocolate from Zingerman's Next Door as one of the best in the country. Today we want to hear from you.
Who makes the best hot chocolate in town? Are you partial to the hot cocoa at Beezy's? Does Starbucks hot chocolate make your day? Will you go out of your way to get a mug from Comet Coffee?
Post your favorite in the comments below. Tomorrow we'll reveal your favorites, and I will share the extensive local hot chocolate research my 10-year-old and I have been doing as well.
Jessica Webster leads the Food & Grocery section for AnnArbor.com. Reach her at JessicaWebster@annarbor.com. You also can follow her on Twitter or subscribe to AnnArbor.com's email newsletters.