Talking turkey: Join food writer, personal chef for live chat about Thanksgiving dishes Tuesday at noon
Posted on Mon, Nov 19, 2012 : 2 p.m.
It's the most wonderful time of the year. No, I'm not breaking out the Christmas carols. I'm talking about America's biggest food holiday. A time when we celebrate family and the bounty of the harvest by stuffing ourselves with turkey and all the trimmings.

But cooking for Thanksgiving can be tricky. Planning out your dishes, shopping for ingredients, and getting the timing for all of your sides to be ready to serve at the same time requires serious organizational skills and attention to detail. Sometimes it all comes off without a hitch. And sometimes it can go horribly, horribly wrong.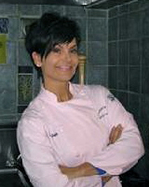 I've invited personal chef and culinary instructor Sandina Polgar to join me for a live chat on Tuesday at noon. We'll talk turkey, sides and desserts. Bring your questions, favorite recipes — and your best Thanksgiving disaster story.

So bookmark this page and join us Tuesday at noon!

View live updates on a mobile device