Posted on
Thu, Jan 31, 2013 : 1:52 p.m.
The best hot chocolate in Ann Arbor
By Jessica Webster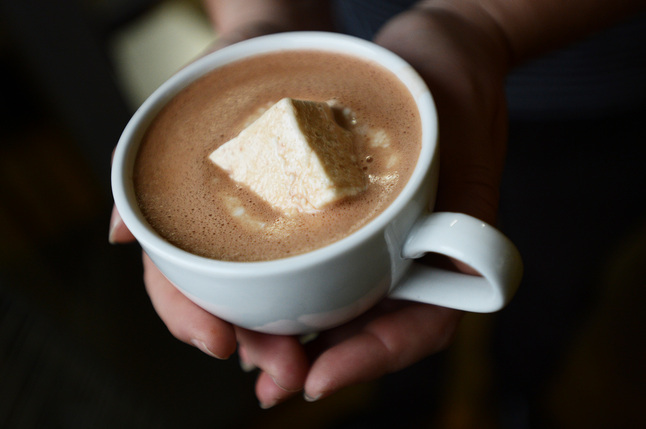 Melanie Maxwell | AnnArbor.com
Someone somewhere decided that Jan. 31 should be celebrated as
National Hot Chocolate Day
, and who are we to argue? As the snow, ice, wind and cold have walloped the area this morning, it seems like the perfect day to settle in with a hot mug of chocolate.
Yesterday we asked you, our AnnArbor.com readers, to share your favorite hot chocolate destinations, and your answers were (predictably) diverse. We've compiled them—plus a few more—into a poll, and you can vote for your favorites after the jump.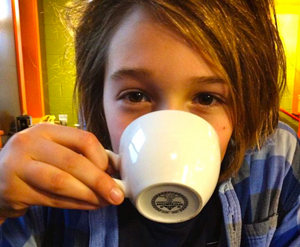 Jessica Webster | AnnArbor.com
When prepping for this all-important food holiday, I also turned to my favorite hot chocolate connoisseur for
his
opinion on the hot chocolate scene.
"I think this requires more research, Mom."
So my 10-year-old and I spent Christmas break hitting every hot chocolate destination we could think of. Starbucks was immediately discarded as a contender. (The chocolate flavor was too strong but "not chocolatey enough," and the baristas always make it scalding hot.) Great Lakes Chocolate and Coffee held a lot of promise—more than a few friends have raved about their hot chocolate and mochas—but the ratio of chocolate to milk was "too overpowering."
In the end, my little hot chocolate expert narrowed it down to three: two local shops and a surprisingly good national chain.
The best hot chocolate in Ann Arbor, according to Jacob:
Zingerman's Coffee. Made with Callebaut 67 percent chocolate drops, melted into steamed Calder Dairy milk. This south side coffee destination's manager Anya Pomykala told me that most people order the hot chocolate topped with whipped cream, but Jacob wholeheartedly recommends the housemade marshmallow. ($3.00/$3.75)
Here's Pomykala walking us through the making of this delicious treat:
Coming in at second place on Jacob's list of the best hot chocolate in Ann Arbor is the Mindo hot chocolate at Morgan & York. That's right, though Zingerman's Next Door's Mindo Hot Chocolate made Food & Wine's list of the best hot chocolate in the country, my discriminating 10-year-old believes that Morgan & York has the leg up on this one, and they charge less for it. The wine and cheese shop also makes a good hot chocolate with steamed Calder Dairy chocolate milk. Bonus: the shop also stocks croissants and other goodies from The Pastry Peddler and (occasionally) Cafe Japon. ($2.50)
Our best hot chocolate list is rounded out by a trip to Caribou Coffee. A couple of years ago, the chain switched from a syrup to making hot chocolate with melted chocolate nibs. They offer hot chocolates in either dark, white or milk chocolate, and are careful to regulate the temperature of the drink when it is intended for a child. ($3.09/$3.49/$3.79)
And now you tell us. We've compiled your choices for best hot chocolate in Ann Arbor in the poll below, and added a few favorites of our own. Vote for your favorite hot chocolate destination, or comment and tell us what we might have left off.
Jessica Webster leads the Food & Grocery section for AnnArbor.com. Reach her at JessicaWebster@annarbor.com. You also can follow her on Twitter or subscribe to AnnArbor.com's email newsletters.