Posted on
Sat, Mar 2, 2013 : 10:02 a.m.
One carnivore's take on the best meat in Ann Arbor
By Richard Retyi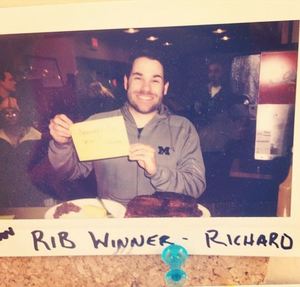 Rich Retyi | AnnArbor.com Contributor
Ann Arbor has a reputation that's more Jazzy Veggie than Carnivore Castle, but our little burg has quite an assortment of meaty treats. Cow, pig, chicken, deer, other cow — there's a whole lower deck of Noah's Ark waiting to be slathered in sauce or served with a starch. If you love
meat,
you're welcome — here's the best meat in all of Ann Arbor.
Best Burger
Over the last five years, Ann Arbor has come down with a case of the hamburgers. Quickie Burger, Five Guys, Great Plains, Bagger Dave's, Famous Hamburger, @Burger (RIP). That's a lot of hamburger joints in an already hamburger-rich environment. There are a ton of great burgers in this town, from chains like Red Robin (sorry townies) to purveyors of Knight's stock like Red Hawk and Casey's, but for my money, and not for long, the best burgers in town are found at Blimpy Burger.
Stacked patties (one, two, three, floor!—get it?) served with attitude. The key is the smashing. These burgers are juicy, tasty and aren't overpowered by the condiments or bun. Or mean table-cleaner person telling you not to put your cup on the table. YOU don't put your cup on the table, person!
Best Steak
Skip the overpriced Chop House (except on my birthday!) and head to townie HQ, Knight's Steakhouse. It's always hard to get a table and mostly hard to get a seat at the bar, but it's always worth it. Knight's doesn't mess around. Pick the thick 24-ounce Porterhouse or the tasteful 12-ounce Delmonico.
I generally go with the New York Strip because I'm big-city folk, but I know their filet mignon is also great as well. That's a lot of steak. And I know this article is about the best meat in town, but start with the wedge and get a side of fries and order a stiff whiskey drink while you're at it and WHY AM I NOT AT KNIGHT'S RIGHT NOW?
Rich Retyi | AnnArbor.com Contributor
Best Chicken Wings
Chicken breast, like white-meat turkey, is almost too much like a vegetable for me to count in this review. When I talk about chicken, I talk about the most delicious part of the chicken — the wing. I grew up 40 minutes from Buffalo, N.Y., the chicken wing capital of the galaxy, so I know my wings.
Ann Arbor's wings don't come anywhere close to the eighth-best wing shack in Lackawanna, but there is one place that would come in number nine with a bullet: Mr. Spot's. I've had wings all up and down this city, and Mr. Spots has the best combination of tasty meat, perfect frying and finger-licking sauce. I always go with the original hot, a side of celery and bleu cheese, and a side of chicken fingers, but let's not get into my ritualistic binge-eating. The wings are the thing. Give them a try.
Best Ribs
I give few pieces of life advice, but one of them involves ribs. Here goes: If you're in an unfamiliar restaurant, you feel like meat and someone else is picking up the check, order the ribs. Ribs and fries, fries and ribs. I've had a lot of ribs in a lot of places, and for my dollar (because usually people don't buy my ribs), I choose Satchel's BBQ.
Full disclosure: after eating ribs at Satchel's once, I dropped my business card in the punch bowl to win free ribs and had my card pulled. So I ate more ribs. These ones free. They were delicious. Satchel's smokes their meat in the parking lot, right outside the cell phone store. A big pile of wood and thick delicious smoke a middle finger to touch screens everywhere. These ribs are good. Real good.
Rich Retyi | AnnArbor.com Contributor
Best Hot Dog
Hot dogs are hard to screw up, but they're also hard to do really well. I've been spoiled, living in Chicago, where the average neighborhood bar serves some of the best dogs in the world — the perfect size, snap of the casing and tasteful toppings. There are only two places in Ann Arbor where I'll get a hot dog, and I always regret one of them.
Ray's Red Hots (formerly Red Hot Lovers) serves a variety of tasty dogs, from the Chicago to the coney and all down the line. Their toppings are good and they have giardiniera. However, I hate to be one of these folks, but the place hasn't been the same since it changed to Ray's.
The best best hot dog in town is hard to procure because it's not to be found in a brick and mortar establishment. I'm not kidding when I say the best dogs in town come from Big Dick's Hotdogs. With a cart outside Circus on First Street and one on State and Madison, Big Dick's serves the late-night crowd with huge, tasty hot dogs, great toppings and a series of special sauces. My analysis might have a slight margin of error based on the time, physical and mental state I'm in when consuming most Big Dick's, but I'm going to stick by my choice here.
Best Meat Submarine Sandwich
My Klout profile says I'm influential about Michigan, social media, movies and sandwiches. I love me some sandwiches, and I particularly love me some meat-piled sandwiches. Zingerman's is great, but there's something better out there, trust me. Are you ready to join me?
Try Dibella's. The Dibella's Godfather is the single greatest submarine sandwich I've ever eaten. It's only three meats — genoa salami, capicola and spicy ham — but it's divine. If I'm having a bad day, if I'm not feeling well, if I've had a little too much to drink the night before, a Dibella's Godfather is my delicious life preserver in a cold, cruel world. Add spicy mustard, provolone cheese and their famous oil dressing. The Godfather will be one of the things I miss the most when I leave this town. I wish I was kidding.
Best Dehydrated Meat
Meat doesn't always have to be juicy and succulent, dripping with deliciousness and possibly gravy. The folks at Biercamp take your favorite creatures (pig, turkey, deer, bison, canard and plain old cow), season, sauce and dehydrate that stuff deliciously. Siracha, HP sauce, sweet curry, cherry-teriyaki and something called Quatro-Crazy which I assume is four times crazier than the usual crazy flavor available in most retailers. I hear you can take this stuff hiking (who hikes anymore?) or on long car rides. I just eat it in coffee shops while I write article for AnnArbor.com and Cigar Afficianado.
What are your favorite places in town to get your meat? Carnivores unite!
Richard Retyi returns to AnnArbor.com with his new column Hidden Ann Arbor. Rich will write about the hidden side of Ann Arbor and the things locals take for granted. In his day job, Rich is a social media director for a digital marketing agency in Ann Arbor. Read more of his stuff at RichRetyi.com or follow him on Twitter.