Posted on
Tue, Jun 28, 2011 : 11:35 a.m.
The Common Grill's uncommon quality makes Chelsea a destination
By Jessica Levine
Jessica Levine I Contributor
A full moon swallows the night sky, casting Chelsea's rail line, brick buildings and the cornflower blue logo on its "Jiffy Mix" elevators in white. Purple Rose Theatre-goers pour onto Park Street, conversely stuffed with stage magic and hungry for meat, wine, starch and sweets.
Around the corner on Main, light from The Common Grill's dining room spills onto the sidewalk via its un-curtained windows: It is brilliant, a bistro like one seen ambling out of the smoky basements of Parisian apartments.
It would be a slight to suppose, however, that The Common Grill is merely a Midwestern carbon of a Montmarte district locale — manned by a maitre d', in Paris, coffee is served after dinner with a cheese wedge, with Burgundies and cigarettes, with airs. By contrast, executive chef Craig Common calls his restaurant an upscale American bistro, a restaurant as practiced and pure with its ingredients as any you would find in France.
Ingredients, like asparagus, peaches and whitefish, that Common says are, simply, "dynamite."
Common began his kitchen career inauspiciously at age 14 washing dishes at Dearborn Heights' Boars Head Inn. After years of learning the culinary trade from the ground up, Bob Daniels — proprietor of Chelsea Lumber and father of playwright Jeff Daniels — approached Common to open a destination restaurant as part of a downtown reinvigoration effort. In 1991, Common threw open his lacquered double-doors, and the Chelsea masses have been well-fed ever since.
"This is a restaurant where you can feel relaxed," Common said. "We can accommodate anyone's occasion, whether it's a birthday party or if somebody comes up to the Grill to get a sandwich for dinner. We try to make it very comfortable for people."
This comfort comes from fresh, un-fussy food served in a place that respects the basics. Suffice it to say that Common doesn't adhere to the philosophy of chefs like Ferran Adria. Executive chef of Spain's elBulli and considered to be among the world's greatest culinary talents, Adria's Willy Wonka approach to cooking has him preparing dishes like frozen polenta, asparagus with hot mayo, sushi with a ginger spray and tapioca'd ham.
Literally, this guy turns cured pig bits into gelatinous pearls.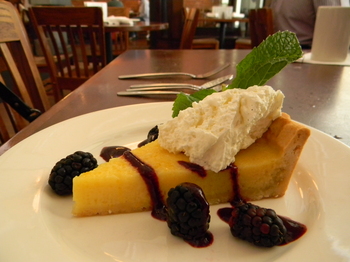 Jessica Levine I Contributor
Common avoids this kind of faddish pretense and trends toward the old, good way of cooking that allows the ingredients and their flavors to stand alone. He admires cooks who do the same.
"From a restaurateur's standpoint, I like Danny Meyer out of New York. He's impressed me for a long time," said Common. "From a chef's standpoint, I like Nancy Oakes, who's the chef at Boulevard in San Francisco and Jeremiah Tower, former chef and owner of Stars (now closed) also in San Francisco."
As in the traditional French and Italian styles, Meyer, Oakes and Tower all value simplicity and freshness over frozen, deconstructed and nuked. As noted on her restaurant's website, Oakes said, "We all feel a reverence for the food we use... we choose diver scallops rather than dredged, and fruits and vegetables straight from the farm or the farmer's market."
While emulating these chefs' European-inspired cuisine, Common works hard to preserve Chelsea's heartland flavor. Nightly he prepares a dinner menu of bouillabaisse, tenderloins, perch and scallops for service in a dining room with wall-length murals of local landmarks. Chalkboards posting daily specials hang above the U-shaped bar tapped with Michigan microbrews; in a glassed-off space next to the central kitchen, bakers pound bread into submission.
...A couple having lunch is seated beneath the restaurant's mural of the town skyline, giving the effect that they are a part of the picture, a part of the town's brickwork. Subtly, that is Common's intent.
In support of the Chelsea community, he has hosted local jazz musicians like Bobby Streng, Edie Harrold and Debbie Fogel. He cooked frittatas and praline pancakes for the town's "Sounds & Sights on Thursday Nights" fundraiser. And he's done it using Michigan ingredients — Calder Dairy buttermilk, Great Lakes walleye, syrup tapped from our maples. Eggs and locally farmed shrimp. Goat cheese.
"I think Midwestern cuisine is underestimated," Common said. "We take second fiddle to the east and west coasts, but I think our food and the chefs that are in the Midwest are second to none. We've got a lot of chefs in this area that are top-notch."
Like Common himself.
Considered an Oscar nod in the food world, The James Beard Foundation recently nominated him for its 2011 Best Chef: Great Lakes award. He was one of three Michigan restaurateurs named in the category.
"I was thrilled," said Common. "It was a validation of how you work with everybody, so it was very exciting."
The word is out about The Common Grill: The Detroit Free Press, Bon Appetit and Gourmet have sunk in their tenterhooks and sung the bistro's praises. Deservedly, it is a restaurant that's talked about, but one that remains levelheaded due to Common's combined humility and confidence. To label it solely a mimic, a Paris/New York/San Francisco wannabe stuck in a quaint, Midwestern jewel of a town would hardly do it justice.
The Common Grill is Chelsea. It is Michigan and it is, in the words of Craig Common, "tasty."
Jessica Levine profiles the culture, history and personalities of Washtenaw County restaurants for AnnArbor.com. Contact her at levineeats@gmail.com.