Posted on
Wed, May 25, 2011 : 6:30 a.m.
The General Tso Chronicles: Shanghai-style cuisine perfected at Canton's Best China
By Jessica Levine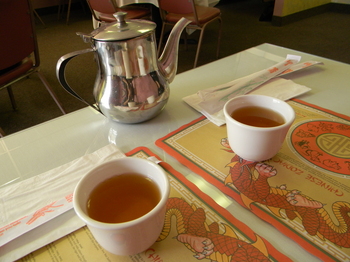 Jessica Levine I Contributor
Chinese food is a series of contradictions. The sweet of oranges, pears and lychee fruit collides with the sour — seaweed, vinegar and pickled radishes. Chilled and salted duck shank temper hot pots of dumplings, bowls of barbequed chicken feet and fried taro cakes like purple haystacks. Gelatinous meets crunchy.
The Taoist belief of yinyang, the natural balance of things, is illustrated in black and white. But here is a cuisine that lives in the gray and thrives in the tasty distinctions between General Tso's chicken and rice porridge with century eggs.
Between lo mein and pork's nasty bits.
This duality defines the food and the people of Canton's Best China, an unassuming strip mall restaurant owned by the Poe family and managed by Wei Guo Yu, a native of Shanghai. Yu has been a fixture at Best China since it opened seven years ago and has observed a definite evolution of American and local Chinese tastes.
"In the beginning, most of the customers were Americans," Yu explained in Mandarin.
"Over time, by word of mouth, more Chinese folks started coming. A lot of customers would ask for Shanghai-style food, which is rare around here, so we would cook for them and gradually add that style of food to our menu."
Shanghai, a fast-changing skyline of cranes and talking neon, stands in sharp contrast to Best China's dandelion-flecked parking lot. Known for light flavors and tangbao — mango-sized buns filled with soup meant to be slurped out with a straw — Shanghai-style dishes are distinctly different from their sweet and sour brethren. Or, more accurately, their stickier second cousins.
Author of "The Fortune Cookie Chronicles: Adventures in the World of Chinese Food," Jennifer 8 Lee argues that American Chinese food is its own cuisine, one that burgeoned centuries ago in the workingman kitchens of New York and San Francisco. Circa 1900s chop suey — a Far East gumbo of cabbage and innards — has since morphed into the standbys: White boxes of breaded chicken and beef mixed with gravy-thick sauces, orange rinds, whole peppers, and broccoli. Eggs rolls and wontons.
Fortune cookies.
"American Chinese food is predictable, familiar, and readily available. It has a broad appeal to the national palate. It is something nearly everyone nowadays has grown up with — both young and old," writes Lee.
"Our benchmark for Americanness is apple pie. But ask yourself: How often do you eat apple pie? How often do you eat Chinese food?"
The demand for this Panda Express-style fast food has, however, begun to change; according to the 2010 U.S. Census, Michigan's Asian population has grown 35 percent since 2000. For a slice of home, these recent immigrants seek respite in familiar flavors and tastes. It is a natural, Mecca-like move that transcends all cultures.
"Around here, there are a lot of Chinese people," Yu noted.
"However, there are also people from other areas such as Japan and Korea that come and order more traditional Chinese food. Also, more and more Americans are starting to order off the traditional menu."
Wei Chi Hu of Canton moved to the United States 11 years ago from Haimen, a city outside of Shanghai. I asked her what meal made her think of her mom's cooking, of her days spent on the family farm.
"Qingcai," she said immediately, over a bowl of sliced pears. "Bok choy and tofu. In China, it's known that qingcai and tofu keep you healthy. They are good foods for the digestive system."
For Hu and others, Best China's menu offers the real deal. Dishes like braised duck noodles, pickled vegetables and pork, fish soup, fried dough sticks, soy milk and beef meatballs are reminiscent of kitchens past. And for the newcomers, for the General Tso's camp, they are dishes conversely delicious and challenging.
Dishes served both the Shanghai way, and the Canton way: Unobtrusively and with care.
It is Saturday afternoon dim sum, a brunch of buns, rice porridge, noodles, tea, conversation and good company. In jeans, T-shirt and apron, Yu deftly works the 10-seat dining room under steaming bowls of soup and dumplings.
Fire rears from heaving woks in the kitchen, a scene punched by staccato'd shouts in Mandarin for more food, more orders. At Best China, old bleeds into new and white creams black — the makings of a really good meal.
Jessica Levine profiles the culture and history of Washtenaw County restaurants for AnnArbor.com. Contact her at levineeats@gmail.com.