Posted on
Tue, Dec 18, 2012 : 10:45 a.m.
The real meaning of Christmas is hygge
By Kim Bayer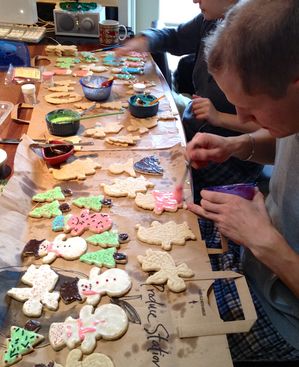 Kim Bayer | AnnArbor.com Contributor
When you're a kid you have to wait centuries for Christmas to arrive, but when you're an adult, suddenly it's next week and you've bought exactly one present. I was just working up to having the annual stress-fest, where I hate all the work and anxiety that goes into making a merry (expletive) Christmas, when I remembered the Danish concept of "hygge." From what I understand, hygge, sometimes translated as "coziness," is all about the peace, love and happiness that the holiday is supposed to symbolize.
According to the Art of Danish Hygge: "Hygge is as Danish as pork roast and cold beer and it goes far in illuminating the Danish soul. In essence, hygge means creating a nice, warm atmosphere and enjoying the good things in life with good people around you. The warm glow of candlelight is hygge. Friends and family — that's hygge too. And let's not forget the eating and drinking — preferably sitting around the table for hours on end discussing the big and small things in life. Perhaps the Danish idea of hygge explains why the Danes are often considered the happiest people in the world?"
What I like about hygge is that it seems to be all about creating an atmosphere of warmth, both physically and emotionally, where what's important is: "relaxing with good friends or loved ones, often while enjoying good food and something to drink or creating a more friendly atmosphere by lighting a few candles." And although hygge is not a one-shot deal, being equally available in both winter and summer, its true apex is at Christmas where the gathering of family and friends feels warmer on a cold night.
The idea of creating the feeling of an enveloping embrace, both in my head and at home, has helped me ignore the boatloads of holiday flotsam in the basement while considering what makes us coziest during the darkest days before and after winter Solstice.
As we were hanging twinkle lights over the weekend, some friends arrived with a lovely bag of homemade treats. When we pulled these lovely people into our kitchen for drinks and an unanticipated half hour of catching up, I felt something that warmed my insides more than the shot of bourbon whiskey. I can only assume that it was hygge.
Make your own hygge:
with a traditional Danish dish eaten at Christmas called Ris a l'Amande - Almond Rice Pudding (with warm cherry sauce):
http://mydanishkitchen.com/2010/12/10/12-days-of-christmas-ris-a-la-mande
Kim Bayer is a freelance writer and culinary researcher. Email her at kimbayer@gmail.com.