Posted on
Wed, Feb 27, 2013 : 1:25 p.m.
The search for Ann Arbor's best breakfast joint
By Jessica Webster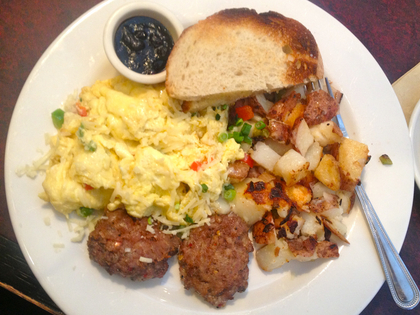 Jessica Webster | AnnArbor.com
When I was a picky 10-year-old, I refused to order breakfast food in restaurants. We rarely ate out for breakfast anyway, and when we did, I would ask the kitchen to make me a hamburger or something from the dinner menu. The thought of eggs and pancakes in the morning (unless my mother had made them, of course) was abhorrent to me.
Fast-forward a couple of dozen years (or so) and things have changed dramatically. Despite the fact that breakfast is one of the easiest meals to whip up at home, I'm a fool for a decent breakfast joint. Fluffy pancakes topped with berries? Yes please. A simple over-easy egg served with bacon and toast? I'm there.
When it comes to breakfast spots in Ann Arbor, we've got an embarrassment of riches. From greasy spoons to more upscale, locally sourced joints, you can take your pick every morning of the week.
We've been soliciting your favorite Washtenaw County breakfast destinations for our entries in our partner site MLive's search for Michigan's Best Breakfast Joint, and as all of your suggestions have come pouring in, I've started thinking about my favorite breakfasts.
Benny's Family Dining: This unassuming diner on Ann Arbor's South Industrial Street is a favorite of student athletes and Burns Park families alike. The food is fast, delicious and inexpensive, and the staff is extraordinarily friendly. There is often a wait at the door, but tables turn over quickly, so you never have to wait for long.
The best deal on the menu is the Original Mini: $3.99 for an egg, two bacon slices and three small pancakes. And if you're in the mood to splurge on calories, the Southern Omelette — topped with sausage gravy and served with toast — is really tasty.
Beezy's : Located on Ypsilanti's Washington Street, just north of Michigan Avenue, Beezy's has been serving up "simple, honest food" for a little more than four years now. Owner Bee Roll has an imaginative menu of breakfast favorites, with ridiculously delicious specials, including breakfast scrambles and imaginative and sometimes off-the-wall french toast creations.
Northside Grill: Walking into this breakfast and lunch joint on Broadway near Pontiac Trail can feel like entering Cheers. Much of the staff has been working there for years, and they'll remember you from your last visit. They serve up good coffee and locally-sourced eggs (from "happy chickens" according to a sign at the counter). Everything I've tried, from the Huevos Rancheros to the "Morning Eggdition" sandwich has been great. And it doesn't hurt that they're always playing WEMU overhead.
Zingerman's Roadhouse : The Grits and Bits Waffle (with bacon and grits in the batter!) served with a side of two over-easy eggs is my dish of choice, but you really can't go wrong with anything on the breakfast menu here. Biscuits with chocolate-bacon gravy? Yum. Eggs Benedict with applewood smoked ham? Crazy good.
If you're in a hurry, you can just grab a breakfast burrito to go from the Roadshow trailer. Filled with scrambled eggs, bacon, jack cheese and green chiles, it's one of my favorite indulgences in town.
We're accepting your nominations for Ann Arbor's best breakfast joint until 5 p.m. Haven't chimed in yet with your favorite? Let us know in the comments below!
Jessica Webster leads the Food & Grocery section for AnnArbor.com. Reach her at JessicaWebster@annarbor.com. You also can follow her on Twitter or subscribe to AnnArbor.com's email newsletters.