Posted on
Fri, Feb 22, 2013 : 7 a.m.
The search for Michigan's best breakfast joint coming to Ann Arbor area
By AnnArbor.com Staff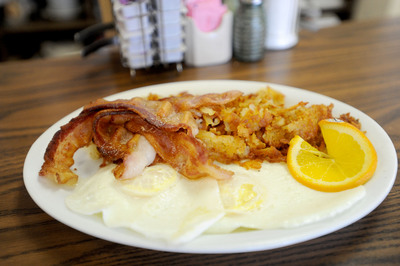 Angela J. Cesere | AnnArbor.com file photo
By John Gonzalez
MLive statewide entertainment reporter
We're doing it again!
We had so much fun last year -- traveling all over the state and searching for Michigan's Best -- that we have decided to launch a few for more searches in 2013.
Where will they take us?
I'm not sure. We never anticipated how much fun we would have on our searches last year for Michigan's Best coney dogs, BBQ, ice cream parlors and haunted houses.
With that said....
Our first search for 2013 will be a search for Michigan's Best Breakfast Joint.
Whether it's a greasy spoon or a trendy breakfast nook, we want to know where you go for a great Michigan breakfast.
You know what I'm talking about: French toast, eggs, omelettes, sausage, hashbrowns, American fries, pancakes, cinnamon toast, breakfast burritos, biscuits and gravy, breakfast casserole, quiche -- you name it.
I even stopped off this week at Sparty's in Lansing for a ham and cheese omelette, just to get in the right frame of mind.
We're not looking for Sunday brunches, although the nominees could offer a special weekend breakfast.
We want those places where you get great food, great service and your mouth waters thinking about your next visit.
Use the comments section online to make your early recommendations. Or send me an email: gonzo@mlive.com.
The official search will follow a similar format from last year.
• On Monday, Feb. 25, local entertainment writers in all of our hubs around the state will have a story online, asking for nominations.
• The deadline for nominations is 5 p.m. on Feb. 27.
• On March 1, local entertainment reporters will post a poll with the top nominees from readers. The deadline for local polls is 5 p.m. March 5.
• On March 8, I will announce the winners of each local poll, and also announce our itinerary.
• From March 11-15, I will join the local entertainment writers in their markets to sample the best in each market. The public will be welcome out and join me on the visits.
• On March 19 I will announce Michigan's Best Breakfast Joint, as well as my Top 10 ranking.
I don't know about you, but I'm hungry!
Email John Gonzalez at gonzo@mlive.com Or follow John on Twitter at Twitter.com/MichiganGonzo On Facebook at Facebook.com/GRGonzo