Posted on
Tue, Jan 3, 2012 : 1 p.m.
Try a Caramel Crunch Sundae to celebrate The Sugar Bowl
By Mary Bilyeu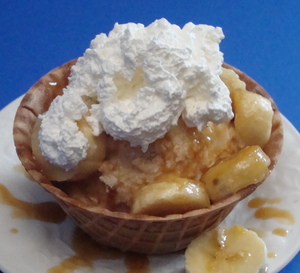 Mary Bilyeu, Contributor
In honor of tonight's Sugar Bowl — featuring #13 Michigan vs. #11 Virginia Tech — I'm offering a dessert to enjoy while cheering on my team. When the Wolverines battle the Hokies, there has to be food appropriate to the festivities!
So I made a dessert with pecans and caramel that offers flavors reminiscent of the luscious pralines found in New Orleans, where the game is being played; with banana slices and a hint of rum, it's also an homage to that city's beloved Bananas Foster. And I had to be sure it was served in the perfect vessel... a sugar(y) bowl!
I offer you something sweet and rich and delicious: a Caramel Crunch Ice Cream Sundae with Banana Caramel Sauce . Enjoy!
GO BLUE!
Caramel Crunch Ice Cream Sundae with Banana Caramel Sauce
9 caramel-flavored mini rice cakes
6 small sugar cookies
1 tablespoon sugar
4 cups butter pecan ice cream
6 ounces caramel ice cream sauce
1/2 tablespoon dark rum or rum extract
2 medium bananas, sliced
4 waffle cone bowls
whipped cream
Place a sheet of waxed paper on the bottom of an 8x8-inch freezer-safe dish.
Place the rice cakes and sugar cookies into a food processor or blender; grind into fine crumbs and place into a flat bowl. Stir in the sugar.
Form fiour 1-cup balls of ice cream. One by one, roll the ice cream in the cookie crumbs, coating the ice cream very well; place onto the waxed paper in the dish. Place the dish with the ice cream balls into the freezer for 1 hour to firm them.
Place the ice cream sauce, rum and bananas into a large skillet. Cook over medium-high heat, stirring occasionally, just until boiling.
Place a waffle cone bowl onto each of 4 dessert plates. Place 1 ice cream ball into each bowl. Divide the bananas among the bowls, drizzling with caramel sauce. Top with whipped cream and serve immediately.
Serves 4.

Mary Bilyeu writes about her adventures in the kitchen - making dinner, celebrating holidays, entering cooking contests ... whatever strikes her fancy. She is also on a mission to find great deals for her Frugal Floozie Friday posts, seeking fabulous food at restaurants on the limited budget of only $5 per person. Feel free to email her with questions or comments or suggestions: yentamary@gmail.com.
You should also visit Mary's blog — Food Floozie — on which she enthuses and effuses over all things food-related.
The phrase "You Should Only Be Happy" (written in Hebrew on the stone pictured in this post) comes from Deuteronomy 16:15 and is a wish for all her readers - when you come to visit here, may you always be happy.