Posted on
Thu, Apr 12, 2012 : 12:04 p.m.
Lemony Farro Risotto with Spinach and Pine Nuts will put the sunshine back in your life
By Peggy Lampman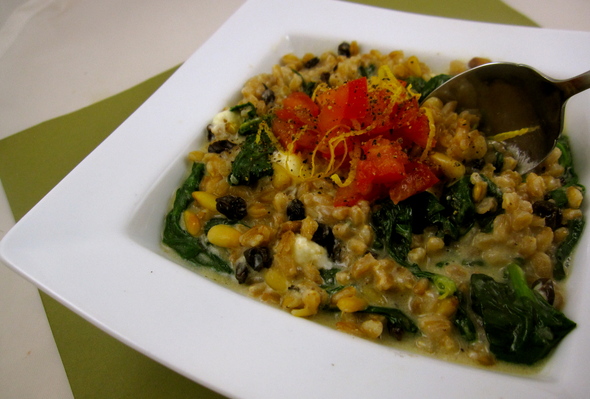 Peggy Lampman | Contributor

mean fighting machine!
April is the cruelest of mistresses. Smelling of sweet hyacinth, she frolics into our lives in a golden glow of forsythia and daffodils. Falling captive to her spell, we remove our sweaters, basking in her warmth, only to have her demands of ransom when our guard is down. Mid-April is upon us and our taxes are due on Monday; shivering, we dig into our wallets.
Indeed, things are not always what they appear to be. Another example is this farro risotto. Granted, not the great beauty on the block, but it's an inexpensive dish to recreate, and understanding of diminished bottom lines. But — as other not-so-attractive, grain-based dishes — it tastes like a million bucks, with abundant citrus to put sunshine back into our life.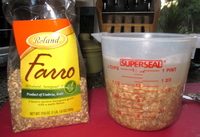 A classic Italian risotto uses Arborio rice from the Po Valley of Italy, which has a more unctuous rich and creamy texture than a risotto made with farro. But this whole wheat grain, as Arborio rice, has been enjoyed by Italians for centuries. According to wikipedia, farro is a type of wheat that was one of the first crops domesticated in the Near East and widely cultivated in the ancient world. Like quinoa and amaranth, it is considered an ancient grain.
Never heard of farro? Maybe you've heard of spelt. Depending on which source you're referencing, farro and spelt are interchangeable — or not. My experiences cooking with spelt and farro indicates they are different, but I'm no expert on their genetics.
The farro I've used, purchased from local shelves and bins, is best when soaked before using, while spelt cooks right up. I prefer the nutty flavor and toothsome texture of farro to spelt. Bear in mind, my experiences are circumstantial, limited to my Ann Arbor shopping circumference.
But all of the information I've read concurs that farro (spelt) is a healthy component in a diet. According to farro.comthe grain is higher in fiber and complex carbohydrates and contains more protein than wheat. As well, gluten-sensitive people are often able to include farro in their diets. The tough hull of this ancient grain is more difficult to process than other grains, therefore there has been a decline of cultivation of farro in modern times.
These days the hull is thought to be a benefit, not only protecting the kernel, but helping to retain nutrients. Also, unlike other grains, the husk protects it from pollutants and insects allowing growers to avoid using pesticides.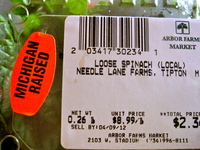 The following recipe was inspired by
Giada de Laurentii's Farro Risotto
.
I used lemon juice instead of white wine, more shallot, and a garnish of tomato and lemon zest, to dress it up a bit. Her recipe called for 6 cups of stock, but I found 4 cups was plenty. (Cooking times for grains vary according to how long the grain sits on the shelf.) I was not as dedicated to her continuous stirring, and I also added fresh spinach, grown locally in Tipton, Michigan, available at Arbor Farms.
Alas, the spinach resembles the green currency I remember with affection, and I promise to better manage in the coming year.
Yield: 3-4 servings
Time: 45 minutes (much of it inactive except for the occasional stir)
Ingredients
1 cup (semi-pearled) farro
3 tablespoons extra virgin olive oil
2 tablespoons unsalted butter
1 large chopped shallot (approx. 1/4 cup)
Zest and juice from 1 large juicy lemon (1/3 cup juice; zest reserved for garnish)*
4-6 cups hot vegetable or chicken stock
1/3 cup dried currants
1/4 cup toasted pine nuts
2/3 cup crumbled feta, French feta preferred
1/2 pound fresh spinach, washed and stems removed
1 tomato, seeded and diced
*White wine may be substituted
Directions
1. Soak farro in water 30 minutes then drain.
2. In a large heavy-bottomed pan or Dutch oven, heat the oil and butter over medium heat. Add the shallots and cook, with a pinch of kosher salt, until softened, 3-4 minutes. Add the drained farro and cook, stirring until toasted, about 3 minutes. Add the lemon juice and stir until evaporated, about 2 minutes. Add a cup of the hot stock and cook, occasionally stirring, until completely absorbed. Continue cooking in this manner until the farro is creamy, yet slightly chewy and cooked through, about 30 minutes.
3. Turn off the heat and stir in the currants, pine nuts, feta and spinach. Season to taste with freshly ground pepper and kosher salt, if needed. Serve garnished with a combination of the reserved lemon zest and chopped tomato.