Coffee News:

The Ugly Mug celebrates 7 years; Lab Cafe carrying vegan treats; Mighty Good loves Mac

Posted on Fri, Sep 23, 2011 : 3:40 p.m.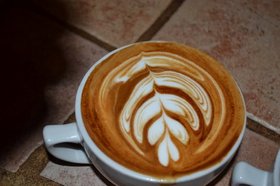 Photo provided by The Ugly Mug

The Ugly Mug 7 Year Itch celebration: The Ugly Mug Cafe and Roastery will be celebrating seven years of "Uglifying the Ypsilanti community" on Saturday from 5 until 9 p.m. They'll have a barbecue and potluck, cuppings, special drinks, an art show and a photo booth. Live music will be provided by Ugly Mug baristas Chris Dupont & His Trio and The Westmen.

The Ugly Mug is located at 317 W. Cross Ave., Ypsilanti. For more information, see the Facebook event listing here.

Vegan treats at Lab Cafe: Fans of The Lunch Room food cart — usually found in their regular location in the Mark's Carts courtyard — will be happy to learn that The Lunch Room's vegan treats are now available at Lab Cafe. Even avowed carnivores have been drooling over The Lunch Room's vegan Mexican Hot Chocolate, chocolate chip and blackstrap molasses cookies.

Lab also offers gluten-free treats from Tasty Bakery, macarons from Cecilia's Pastries and baked goods from The Pastry Peddler.

Lab Cafe is located at 505 E. Liberty, Ann Arbor. The Lunch Room can usually be found in the Mark's Carts courtyard at 211 W. Washington St., Ann Arbor.

Mighty Good embraces the cult of Mac: Ann Arbor's Mighty Good Coffee Roasting Co. Cafe was recently featured in the Cult of Mac blog as a retailer that uses iPads instead of cash registers as point of sale systems. Mighty Good owner David Myers raves about the flexibility, ease of use and relatively low cost of the set up.