Posted on
Thu, Jan 3, 2013 : 2:01 p.m.
The Week in Beer: A non-apocalyptic toast to 2013
By David Bardallis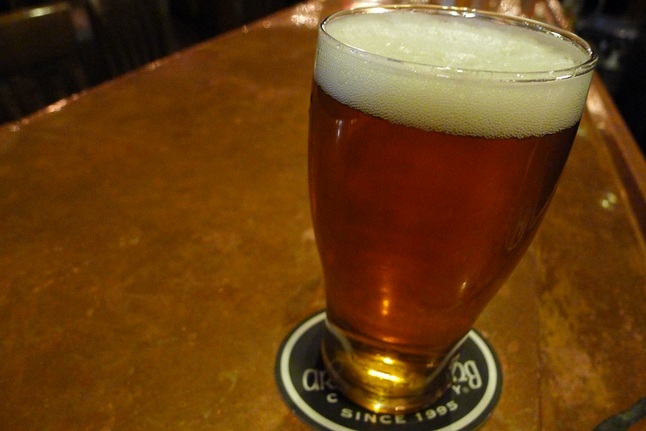 David Bardallis | Contributor

Mayan apocalypses, fiscal cliffs and, of course, the ever-present threat of a terrorist under every bed. It's 2013 and yet somehow we're still here. And so is great beer, and more of it than ever. Why not toast to our continued existence at one of the many brew-related events coming up in the first full
Week in Beer
of the new year? Unless, of course, 2013 is the year of the Aztec apocalypse...
Thursday, Jan. 3
>> Today's the day we've all been waiting for: The Chelsea Alehouse, 420 N. Main, Chelsea, is open to the public beginning today at 3 p.m. The hours posted on its site are temporary, with a promise to "announce our regular hours shortly." In the meantime, the beer is flowing (though growler fills are not yet available) and the food is… fooding? Check out the menu for both here.
Friday, Jan. 4
>> It's Michigan beer happy hour time again at Whole Foods Cranbrook, 990 W. Eisenhower. Grab your shopping cart and make a pitstop at the Wine and Beer Bar for a special tapping of beers from Milan's own Original Gravity Brewing. As of this writing, the lineup is unknown, but anything owner/brewer Brad Sancho brings is likely to meet with your taste buds' approval. Happy hour pricing lasts from 5-7 p.m.
Sunday, Jan. 6
>> Are you a Michigan Beer Enthusiast? I don't mean a run-of-the-grain-mill fan, but a capital-E Enthusiast, as in a certified dues-paying Michigan Brewers Guild beer guzzling member. If you are, then perhaps you'll be interested in the latest Guild Enthusiast member brewery tour and tasting, taking place from noon-2 p.m. at Arbor Brewing, 114 E. Washington. Spaces are limited and you must RSVP in advance to beth@arborbrewing.com by Friday, Jan. 4. To become an MBG Enthusiast, go here.
Monday, Jan. 7
>> Mondays are Beer Enthusiast Nights at Red Rock Downtown Barbecue, 207 W. Michigan, Ypsilanti, but here we are back to talking about lower-case e enthusiasts, i.e., anybody. Confused yet? Don't be — just head to Red Rock for four taps of brews from Arcadia Ales: 16th Anniversary Smoked Wheat Ale, Cocoa Loco Stout, Nut Brown Ale and Sky High Rye Pale Ale.
Tuesday, Jan. 8
>> The holiday-postponed Brewer's Night is on at the Grizzly Peak Den, 120 W. Washington, from 6-9 p.m. You know the drill: Brewery tours, specials on samplers, and a cask of something cool; in this case, it's Hellion Double IPA aged with Liberty hops and French oak chips.
>> Need moar hops? Ashley's, 338 S. State, is hosting a 6 p.m. Bell's Hopslam Ale release party, tapping a fresh keg of the much-anticipated seasonal brew. Submit your Hopslam toast in advance to toast@bellsbeer.com, and if the Bell's folks like yours the best, they'll read it aloud and offer you the chance to buy the very first Hopslam pint of 2013, so get busy wordsmithing!
Wednesday, Jan. 9
>> Fraser's Pub, 2045 Packard, pays tribute to that special green flower with a 5 p.m. Hail to the Hops featuring Bell's Hopslam, Hopsoulution Double IPA, This One Goes to 11 Ale, Captain Spontaneous Dry-Hopped Pale Ale, and a firkin of Two Hearted Ale. Bitter beer face? You betcha.
Thursday, Jan. 10
>> On the other side of the spectrum, Arbor Brewing's monthly beer tasting revolves around delicious malty browns and porters. From 7-9 p.m., sample from more than two dozen of them, feast on an appetizer buffet, and, if you're lucky, score some cool beer swag for your swingin' pad. Tickets are $25 in advance and $30 if purchased on tasting day. Call 734-213-1393 to order or drop by the pub.
>> Head over to Jet's Pizza, 506 N. Main, Chelsea, for a Liberty Street Brewing tap takeover. Look for popular standbys like The American IPA, Red Glare Amber Ale, and Steamy Windows California Common Ale. (And Jet's is just down the street from the Chelsea Alehouse…)
Notes on the Napkin
David Bardallis is a freelance writer and editor, blogger, bon vivant, and man about town. Visit "All the Brews Fit to Pint" at AnnArborBeer.com, follow @allthebrews on Twitter, or join the "All the Brews Fit to Pint" Facebook page. Email your beer-related thoughts to annarborbeer@gmail.com.