Posted on
Thu, May 20, 2010 : 11:30 a.m.
The Week in Beer: American Craft Beer Week redux
By David Bardallis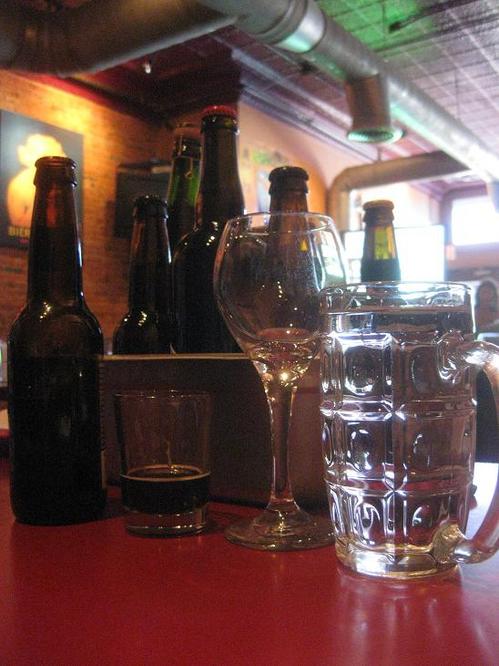 David Bardallis | Contributor
While you're busy making plans for your Memorial Day Weekend, don't be so focused that you forget we still have half of
American Craft Beer Week
left to celebrate. Even though the weather can't make up its mind whether to be nice or lousy, one thing remains constant: We have some damn fine beers and breweries here in our little corner of the world.
Some great ideas for continuing your hops-and-barley-inspired festivities around town are in your Week in Beer, below.


Today
The inaugural beer garden Farmers Market at Original Gravity Brewing, 440 County, Milan, mentioned last week was unfortunately canceled due to crummy weather, but this week it's a go! Fresh local produce, flowers, and beer from 4-7 p.m. are on tap. Well, you can probably get beer before 4 and after 7, too, since it's, you know, a brewery and all.
Friday
The biweekly Michigan beer tasting at Whole Foods Market Cranbrook, 990 W. Eisenhower, brings another epic clash of the titans (to steal some intellectual property®™©): Battle of the Wheat Ales! As always, there will be $3 draft pints and $1 sample pours. Come see just how great it can be to drink beer in the middle of a supermarket. But remember to drive your shopping cart responsibly.
Saturday
The day of reckoning arrives: Judging for the 4th Annual ABC Brews Crews Homebrew Competition begins sometime around 9 a.m. at the Corner Brewery, 720 Norris, Ypsilanti. See which homebrewing genius will take the grand prize (Best of Show), a chance to brew his or her creation on Arbor's 7-barrel system and have it served at the pub. Last year, there were 138 entries divided into 13 categories, including American Ales, English Ale and Porter, Stout, Belgian and French Ale and Sour Ale, and Light Lagers. This year 260 entries were submitted, including around 45 in the new, 14th category: Mead and Cider. Whether you entered the contest or not, come out, grab a beer and enjoy the show. More info is available on the Ann Arbor Brewers Guild site.
American Craft Beer Week continues with another opportunity to enjoy great beer locally: the Ypsilanti Progressive Craft Beer Tour. The fun begins at the Corner Brewery at 1 p.m. Your $25 ticket includes lunch and beer at Corner and more beer at the other participating Ypsi locations: Aubree's Pizzeria & Tavern, 39 E. Cross; Sidetrack Bar & Grill, 56 E. Cross; Haab's Restaurant, 18 W. Michigan; and Pub 13, 13 N. Washington. The walking tour of Ypsilanti's best craft beer destinations ends at 5 p.m. Call the Corner at 734-480-2739 or stop in to get your ticket.
Sunday
Come back to the Corner for the return of a summer tradition: Halcyon Sundaze in the beer garden! A small batch of Halcyon Wheat Ale will be tapped at 2 p.m. followed by mellow grooves provided by DJ Dannyboy and a rotating cast of characters. A great way to spend a lazy spring Sunday. At least, if it doesn't rain again. No cover.
May 27
Space is still available for brewery owner Rene Greff's latest course in beer education, "The British Beer Invasion." For $49 tuition, you can learn about the history of brewing and various beer styles from our friends across the pond in England, Ireland and Scotland, as well as the British Empire's beery influences on the far-flung places of the globe. Oh, and you also get beer samples. Class is in session from 6-9 p.m. in the Tap Room at Arbor Brewing, and advance registration is required through Washtnenaw Community College's Lifelong Learning Program.
Notes on the Napkin

Coming up on tap at Grizzly Peak, 120 W. Washington, we have Liberty Lager, a Bohemian pilsner-y beer brewed with Liberty hops; Oasthouse Wheat Ale, an American wheat with European hops; and Poolside Lager, a popular, refreshing light summer brewski. Great for sidewalk sitting, again with the no-rain caveat.
Have you ever been in the situation where a long-distance friend needed cheering up but you didn't think it was practical to mail him or her a comfort beer? Hey, problem now solved, thanks to Bodega Shop, a "virtual goods marketplace" that makes its home on Facebook. Last week at the U-M Ross School of Business' Michigan Capital Growth Symposium, Bodega announced a partnership with Beer2Buds.com, a website that used a unique payment system that enables friends to give the gift of brew from across the miles. Doesn't technology rock?
It's not too late to vote for Ann Arbor as "Beer City, USA." Craft beer pioneer Charlie Papazian is running the poll via his column at Examiner.com. As of this writing, Ann Arbor is not listed as a choice, but if more than 70 people write it in, Papazian says he will add it to the list, where we and our four breweries will face off against the likes of Portland, Ore., and Boulder, Colo. Poll closes at the end of American Craft Beer Week, aka Sunday, May 23, 11:59 Mountain time. Vote early, vote often!
That's all the brews that'll fit in this here pint. Until next time, if you enjoy your beer, thank a brewer!
David Bardallis is a freelance writer and editor, blogger, bon vivant, and man about town. Visit his Web site, DavidBardallis.com, to engage his services or read his latest. Email your beer-related thoughts to annarborbeer@gmail.com, follow @dbardallis on Twitter, or join the "All the Brews Fit to Pint" Facebook page.