Posted on
Thu, Apr 14, 2011 : 3 p.m.
The Week in Beer: Liquid relief for a taxing time
By David Bardallis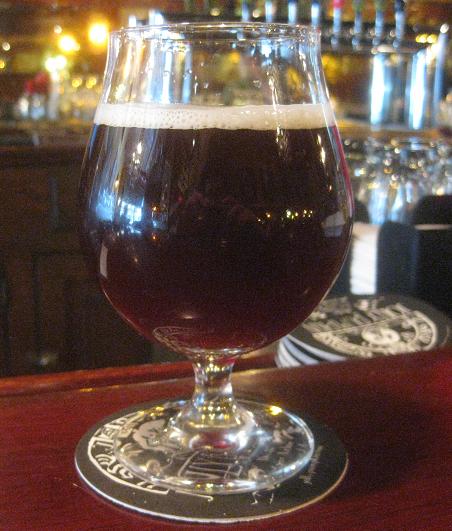 David Bardallis | Contributor

It's the least wonderful time of the year. Yes, I'm talking about the time when you formally surrender a large part of your income to our great and glorious leaders, who invariably have something better to do with it, such as commissioning studies on cow flatulence or building another bridge to nowhere.
To keep from weeping, cursing, and otherwise engaging in embarrassing or antisocial behavior, try applying the soothing balm of fresh local beer. Here are a few ideas for what to look for and where.
Thursday, April 14
» Reminder 1: Beginning at 6 p.m., Ashley's, 338 S. State, is pouring Golden Cap Saison, Charkoota Rye Ale, The Poet Oatmeal Stout, and other special taps and timed cask releases of New Holland Brewing beers, along with several of the brewery's small-batch liquors.
» Reminder 2: From 7-9 p.m Arbor Brewing hosts its big IPA tasting, featuring more than two dozen different hoppy brews, an appetizer buffet and a door prize drawing. Tickets are $30; call 734-213-1393 to order.
Friday, April 15
» Help take the sting out of Tax Day with a Michigan beer tasting at Whole Foods Cranbrook, 990 W. Eisenhower. If you couldn't make it to Ashley's, you can still get a taste of New Holland from 5-7 p.m. at the Wine and Beer Bar. Just $3 for a full pour, $1 for a sample pour, and no corkage fees on any bottle of Michigan beer you want to try. Come on, after filing that Form 1040XYZ, you know you need a beer.
Notes on the Napkin

Ann Arbor continues to get national recognition as a great beer destination. DRAFT magazine recently published a short article featuring some kind words about four of our city's five fine brewing establishments. Read it online here.

This week on tap around town: At Jolly Pumpkin Café, look for Spring Sour, an oak aged blend of at least five JP and Grizzly Peak beers, and La Roja, a delicious sour red JP staple that's been absent from the café for too long. Blue Tractor is pouring a Juniper Pale Ale and a very tasty Java Stout. Grizzly Peak features Little Giant Lager, a tasty session brew, and Hop Happy Monk, a hoppy Belgian style ale. Once those are gone, look for Antwerp Amber, a Belgian pale, and Draconus Belgian Strong Ale.

On April 20, Foran's Grand Trunk Pub in Detroit is hosting a beer dinner and pairing featuring brews from Liberty Street Brewing, 149 W. Liberty, Plymouth. That same day, Liberty is releasing a special imperial IPA named 42nd Parallel, generously dosed with Columbus hops. Look for it at the brewery and at finer beer bars around town. (If you're interested in the dinner, contact Foran's at 313-961-3043.)

Plans for a $1 million expansion and "greenification" of the Corner Brewery continue to move forward, albeit slowly. Read about it in this article on Concentrate Media by Tanya Muzumdar.

Congratulations to the folks at Wolverine State Brewing Co., who have posted a 500 percent — that's right, 500 percent — sales increase since opening their tap room at 2019 W. Stadium last November. They've added two new 10-barrel fermenters and a conditioning tank, five staff members, and a bottling line to their assets and have also inaugurated a new live music series as well. Once the weather warms up, they also plan on expanding their hours of operation. Huzzah!


David Bardallis is a freelance writer and editor, blogger, bon vivant, and man about town. Visit "All the Brews Fit to Pint" at AnnArborBeer.com, follow @allthebrews on Twitter, or join the "All the Brews Fit to Pint" Facebook page. Email your beer-related thoughts to annarborbeer@gmail.com.