Posted on
Thu, Apr 7, 2011 : 8 a.m.
The Week in Beer: April is wet with local brews
By David Bardallis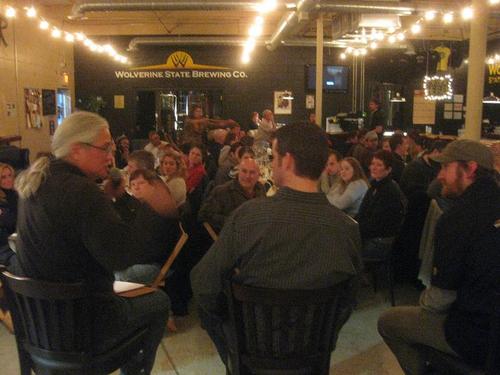 David Bardallis | Contributor

April showers bring May flowers, so the old saying goes, and while I don't recommend you shower in it, there's almost as much beer pouring around these parts as there is rain. Your Week in Beer has you covered like a sturdy, wind-resistant umbrella of incomparable quality.
Thursday, April 7
» Celebrate the last (only?) time the U.S. government admitted it made a mistake — and actually corrected it! — by swinging by
Arbor Brewing
, 114 E. Washington, for a Prohibition Repeal Party going on all day. To commemorate the April 7, 1933 resumption of legal beer sales in America, Arbor is offering happy hour prices on all draft beers as well as $1 glasses of
Ladylegger Pale Ale
, a crisp, golden brew with an understated Cascade and Amarillo hop profile.
Friday, April 8
» Original Gravity, 440 County, Milan, opens at noon to celebrate the Tigers' home opener, serving up house-smoked pork nachos, hot dogs on fresh-baked local buns, and other ballpark grub. Oh, and the beer's better than at Comerica Park! As usual, may I recommend the 440 Pepper Smoker Amber Ale? It's a home run.
Wednesday, April 13
» When its doors open at 3 p.m., Liberty Street Brewing, 149 W. Liberty, Plymouth, will be pouring Wheat & Rye ESB, a traditional English-style bitter ale brewed with 10 percent wheat and 10 percent rye malt to add a little spicy complexity to this classic style. Liberty also has a number of other great beers on tap, including Brewer's Garden IPA, made with homegrown hops; Steamy Windows Amber Ale, a "California Common" in the tradition of Anchor Steam Ale; and the refreshing Clementine Lemon Thyme, Liberty's summer seasonal wheat ale brewed with plenty of citrus zest and a hint of savory spice. If you're out Plymouth way, check it out!
Thursday, April 14
» New Holland Brewing takes over Ashley's, 338 S. State, beginning at 6 the evening of April 14, tapping casks of three high-gravity brews, pouring six other great New Holland beers and even offering New Holland liquors for those more interested in cocktails like the Michigan Martini or Hoparita. The cask schedule is 6, Dragon's Milk Oak Barrel Ale; 7:30, El Mole Ocho Mexican Spiced Ale; 8, Night Tripper Imperial Stout. Among the other beers on tap is Envious Ale, a dark fruit beer from New Holland's "Cellar Series" worth checking out. It might just change your opinion of "fruit beer."
» Arbor Brewing hosts its monthly beer tasting extravaganza from 7-9 p.m; this time the focus is on IPAs. Come out to enjoy more than two dozen different hop bombs, an appetizer buffet, and a door prize drawing to win fine crystal and other swank booty. Tickets are $25 in advance and $30 the day of. Call 734-213-1393 to order.
Notes on the Napkin

The divine Bière de Mars may no longer on tap at Jolly Pumpkin Café & Brewery, 311 S. Main, but the excellent E.S. Bam is now there to provide a worthy replacement. A little bad news for those waiting for Bière de Mars Grand Reserve, however: Its release has been pushed back to late April. Bottles of both the 750 ml and 330 ml variety will be available once it goes on sale.


Original Gravity is teaming up with Erie Bread Co. in Monroe to offer bread made with OG beer and the grains left over from the brewing process. The bread will be used on sandwiches and other menu items available at the brewery as well as by the loaf at the Farmers' Markets hosted by OG every Wednesday from 5-7 p.m. as of April 6. Locally produced bread and locally produced liquid bread — an unbeatable combination!


Fresh off the fun of last week's sold-out "Beer Bellies" dinner, Wolverine State Brewing, 2019 W. Stadium, has more exciting news. This week, co-owner and Beer Wench E.T. Crowe is heading South to her roots to retrieve several bourbon oak barrels from Kentucky to be used in producing some upcoming brews, including an aged dunkelweizen. And once the weather improves and all bureaucratic permissions are granted, the Wolverine beer "garden" will open. OK, so a few picnic tables in a parking lot do not a garden make, but the important thing for Michiganders is to sit outside with their beer wherever and whenever possible, and this will provide one more option.


And speaking of beer outside in warm weather, tickets go on sale May 1 for the 2011 Michigan Brewers Guild Summer Beer Festival, July 22-23 in Ypsilanti's Riverside Park. (Here's hoping it's not the last time the festival's in Ypsilanti; the City Council seems determined to chase this event away with unreasonably higher park fees. If you live in Ypsilanti, you may wish to let council members know you want the festival to stay!)
David Bardallis is a freelance writer and editor, blogger, bon vivant, and man about town. Visit "All the Brews Fit to Pint" at AnnArborBeer.com, follow @allthebrews on Twitter, or join the "All the Brews Fit to Pint" Facebook page. Email your beer-related thoughts to annarborbeer@gmail.com.