Posted on
Thu, Jul 5, 2012 : 8:30 a.m.
The Week in Beer: Celebrate Michigan Craft Beer Month
By David Bardallis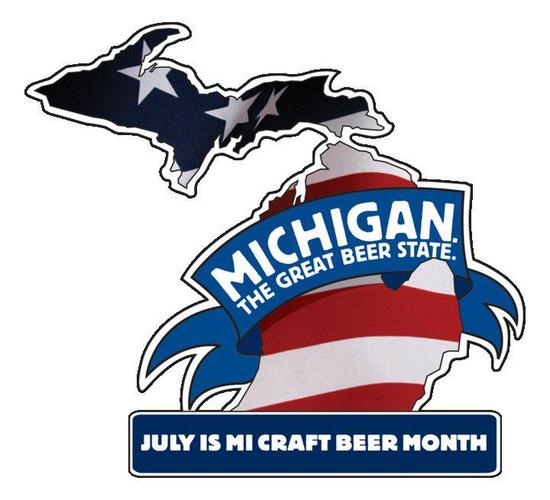 Image courtesy Michigan Brewers Guild.

July has once again been officially decreed
Michigan Craft Beer Month
, so shake off your post-holiday malaise and prepare to keep celebrating for these next few scorching weeks leading up to the July 27-28
Michigan Brewers Guild
Summer Beer Festival in Ypsilanti. There are many fun, unique, and beery ways to support our state's and area's great craft breweries, so let's get to it.
Friday, July 6
>> The beers from Bellaire are in the house for Michigan beer happy hour at Whole Foods Cranbrook, 990 W. Eisenhower. Stop by the Wine and Beer Bar from 5-7 p.m. to check out as many as eight beers from Short's Brewing, arguably Northern Michigan's premier brewery. And don't forget your shopping list.
CORRECTION: The Short's beer tasting at Whole Foods is taking place Friday, July 13. We apologize for any inconvenience, etc.
Tuesday, July 10
>> Now that beers from Witch's Hat Brewing are in distribution, it's time to celebrate with a tap takeover event at Ashley's, 338 S. State. Seven of the South Lyon brewery's libations will pour like heavenly nectar from the taps beginning at 6 p.m. The list includes Train Hopper IPA, Klucking Kat Dark Belgian Farmhouse Ale, Edward's Portly Brown Ale, Big Doedish Double IPA, Simcoe Session IPA, Black Cat Black IPA, and a special treat of Bourbon Barrel Aged Holy Confusion Barleywine-Style Ale. Fans of the brewery as well as folks who have yet to have their first Witch's Hat beer will want to come by and say hi to owners Ryan and Erin Cottongim. And be sure to wish Ryan a happy birthday, preferably by buying some of his beers!
>> Get ready for the first-ever beer dinner at Cafe Felix, 204 S. Main, beginning at 7 p.m. Chef Brad Durr and his team are putting together a five-course feast and pairing it with five different craft beers. Tickets are $45 in advance or $50 at the door; call 734-662-8650 for more information and to reserve.
Wednesday, July 11
>> From 5-7 p.m., join Matt and Rene Greff at Arbor Brewing, 114 E. Washington, for the official ribbon cutting party for the brewpub's new $95,000 solar energy system, which will generate the electricity and hot water for Arbor's restaurant and brewery operations. Keep cool by sipping on some great ABC beer, like the Festival Saison, enjoy refreshments, and learn about all the improvements in energy efficiency made by what is now the first solar-powered brewery in Michigan! View the full press release here.
>> Over at Mercy's At The Belltower, 300 S. Thayer, the beers of New Holland Brewing are featured in a five-course dinner beginning at 6:30 p.m. Tickets are $75 plus tax and gratuity and RSVPs are required. Call 734-996-3729, and see the full menu here.
Thursday, July 12
>> From 7-9 p.m. Arbor Brewing is hosting its monthly beer tasting, this time featuring more than two dozen wits, wheats, and lambics to help you beat the summer heat. Tickets are $25 in advance or $30 the day of and include tasting program and notes, an appetizer buffet, beer samples, and the chance to win glassware, posters, apparel, and whatever other beer paraphernalia happens to be on hand. Call 734-213-1393 or pick up your ticket at the brewpub.
Notes on the Napkin
Jon "Beer Geek" Cole is seeing how many Michigan beers he can get on tap at one time in honor of Michigan Craft Beer Month, and right now he's got over 40 pouring at the Shark Club, 1140 S. Michigan, Howell. And it gets better: Each day this month selected Michigan beers and breweries are on special. So… who's up for a road trip?

Wolverine State Brewing, 2019 W. Stadium, has been busy working on their expansion plans, but that doesn't mean the brewers have been slacking off. Far from it: On tap now is the Sins of Karlito, a sort of brown version of the ever-popular Gulo Gulo India Pale Lager, and on Friday comes the release of Wolverine's take on the anniversary beer many breweries are making to celebrate 15 years of the Michigan Brewers Guild. The recipe calls for an 8 percent alcohol-by-volume (ABV) IPA made with Michigan-grown ingredients, and different versions of it will also be available at the Summer Beer Festival.

The brewers at Liberty Street Brewing, 149 W. Liberty, Plymouth, have been keeping busy as well. On tap now, apart from the great hot-weather beer Clementine Lemon Thyme, is Glutenous Minimus, a gluten-free beer brewed with sorghum, raspberry blossom honey, agave nectar, and cinnamon, and Red Oak, a wood-aged version of Red Glare Amber Ale. Plus other great brews and even three ciders, if you're into that sort of thing.


David Bardallis is a freelance writer and editor, blogger, bon vivant, and man about town. Visit "All the Brews Fit to Pint" at AnnArborBeer.com, follow @allthebrews on Twitter, or join the "All the Brews Fit to Pint" Facebook page. Email your beer-related thoughts to annarborbeer@gmail.com.