Posted on
Thu, Dec 8, 2011 : 3 p.m.
The Week in Beer: Treat yourself to a mug full of merriment
By David Bardallis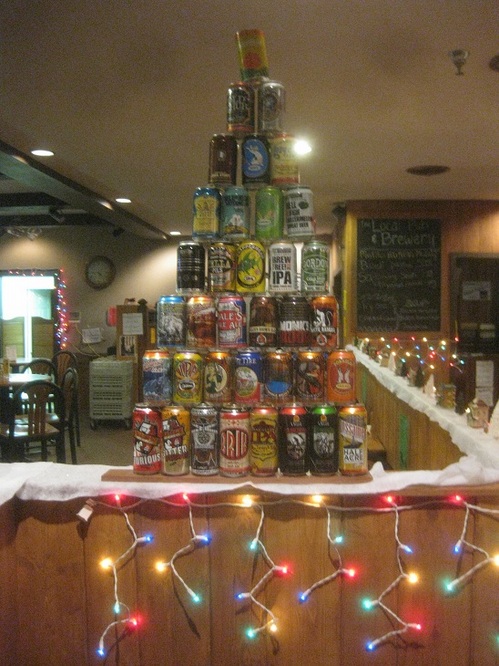 David Bardallis | Contributor

Ho, ho, how's it hanging? Has the madness of the season overtaken you yet? I keep telling you you need to take breaks, preferably with good
beer
, or you're going to succumb to holiday fatigue. You don't want that, so mark the following dates on your calendar and make sure you treat yourself right this Yuletide!
Thursday, Dec. 8
>> Get in the spirit tonight at the holiday beer tasting at Arbor Brewing, 114 E. Washington, from 7-9 p.m. There will be more than two dozen Christmas ales, meads, doppelbocks, spiced beers, and other festive brews, along with an appetizer buffet and presents in the form of beer swag for lucky boys and girls. Tickets are $30; call 734-213-1393 to get yours.
Friday, Dec. 9
>>CANCELED DUE TO ILLNESS: At 5 p.m. down in Milan is the Evil Overlord Strong Belgian Dark Ale release and dinner at Original Gravity, 440 County St. Said beer is a 9.1 percent alcohol by volume (ABV) monster sporting complex aromas and flavors from banana to caramel to dark fruit, thanks to barley and wheat malts and Belgian candi syrup. But that's just the beginning: Don't miss out on having a bowl of Belgian beer stew made with Evil Overlord and braised beef, caramelized onions, and spices and served over a mess of smoked gouda polenta. Yum!
>> The beery festivity continues with a tasting class on holiday beers at Whole Foods Cranbrook, 990 W. Eisenhower, from 6-7 p.m. For a mere $6, beer sage Jimmy will guide on a tour of six different winter beers perfect for the holiday season. Call 734-997-7500 to sign up.
Sunday, Dec. 11
>> The long-awaited release of La Roja Grand Reserve is going down at noon sharp at the Jolly Pumpkin Café & Brewery in Ann Arbor, 311 S. Main. This light, crisp, and perfectly-carbonated and aged version of Jolly Pumpkin's beloved Flanders red will be available only in 330 ml bottles for $13 apiece, limit three per customer. Makes a great stocking stuffer or, heck, let's be honest, a Christmas (present or future) treat for yourself.
>> The "Rockin' for the Hungry" drive in support of local food bank Food Gatherers wraps up with an afterglow party from 5:30 to 7:30 p.m. at Wolverine State Brewing, 2019 W. Stadium, with a live performance from the "Free Credit Report" guys Dale Earnhardt Jr. Jr. Leave your NASCAR gear at home, but do bring $5 and a nonperishable item to donate to Food Gatherers and get ready for a rockin' evening of beer and music.
Tuesday, Dec. 13
>> Jingle Bell's… beer, that is. Head to Ann Arbor's Old Town Tavern, 122 W. Liberty, around 7:30 p.m. for a Bell's tap takeover featuring some hard-to-come-by brews on tap including Quinannan Falls Special Lager, Debs Red Ale, The Oracle Double IPA, Le Batteur and Le Pianiaste biere de garde ales, and more. Bell's rep David Munro and his English accent will also be there to hand out Christmas swag and impress with his beer knowledge. Don't be late!
Notes on the Napkin



It's official: Witch's Hat Brewing Co. will open Dec. 26 at noon in South Lyon, 22235 Pontiac Trail. On tap will be Train Hopper IPA, Lyger (an ale/lager hybrid), Edward's Portly Brown, Rumble Under the Red Light Ale, Klucking Kat Belgian Style Ale, and root beer and cream soda for the soft drink crowd.

Congratulations to Joe Walters and Liberty Street Brewing Co. in Plymouth for making it to the big three! Get thee to 149 W. Liberty St. to celebrate the brewery's third anniversary with a delicious Starkweather Stout, Steamy Windows California Common, or 25th Pale Ale, brewed to commemorate the 25th anniversary of Friends of the Rouge and with hops harvested from the watershed.

Back in September, Ypsilanti's Cafe Ollie, 42 E. Cross St., began the laborious process of getting gummint approval to sell beer and wine and, lo and behold, a fleet four months later, the dream is reality. Beginning Friday, Dec. 9, you can purchase fine mitten-made craft beer and wine at the cafe. What do they carry? Drop by Depot Town and find out!

Back on tap at Arbor Brewing: Crye Baby Rye Ale, No Parking Pilsner and the award-winning Buzzsaw X-Treme IPA. Drink them up, yum!

Mea culpa: In this week's AnnArbor.com print edition there's a blunder in which I list a Jolly Pumpkin/North Peak event happening at Ashley's Friday, Dec. 9. That event actually happened on Dec. 7. Whoops! However, it's likely some of the beers from the event are still available on draft and/or in bottles when you read this.


David Bardallis is a freelance writer and editor, blogger, bon vivant, and man about town. Visit "All the Brews Fit to Pint" at AnnArborBeer.com, follow @allthebrews on Twitter, or join the "All the Brews Fit to Pint" Facebook page. Email your beer-related thoughts to annarborbeer@gmail.com.