Posted on
Thu, Dec 2, 2010 : 1:32 p.m.
The Week in Beer: December bustles with beer events
By David Bardallis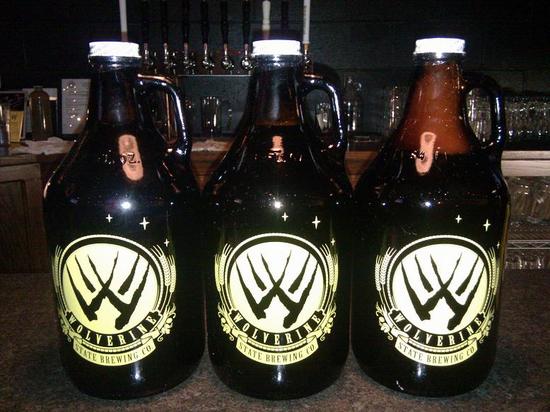 David Bardallis | Contributor
The shopping, er, holiday season continues apace, as do the fantastic local beer events. But why waste time talking about it? Let's dig right into your latest Week in Beer, below.
Friday, Dec. 3
» Time for the biweekly visit to the wine and beer bar at Whole Foods Cranbrook, 990 W. Eisenhower Parkway, for the latest Michigan beer tasting. Come out from 5-7 p.m. to meet brewer Logan Schaedig and try the beers of Arbor Brewing Co. on draft for $3 a glass or $1 a sample pour. Rumor has it Logan will be bringing a cask of something special...
» You can "See Howe It's Made" at 6 p.m. at the Corner Brewery, 720 Norris St., Ypsilanti, when ceramics artisan Jay Howe shows off his handmade barware, including mugs, pitchers, growlers, tasting vessels, and tap handles. He'll also make Mug Club mugs right before your eyes and, as if that weren't enough, the small-batch Rat Pad beer he brewed for the occasion will be available, along with roast turkey and other special menu items.
Tuesday, Dec. 7
» The first Tuesday of the month means it's Brewer's Night again at Grizzly Peak, 120 W. Liberty St., Ann Arbor. Come in from 6-9 p.m. and enjoy discounted samplers, tours of the brewery, beer talk with head brewer Duncan Williams, and a cask of Broadside Ale, a dry-hopped blend of wood-aged Sheerwater IPA and Bear Paw Porter.
» The first Tuesday also means another beer release party at Arbor Brewing, 114 E. Washington St., Ann Arbor, and this time it's Espresso Love Breakfast Stout. From 6-8 p.m. the beer will be flowing and light appetizers will be served. Growler fills of Espresso Love are also $2 off. Admission is free for Arbor and Corner Mug Club members and $10 for the unwashed masses.
» Last year, it raised $2,000 for the Peace Neighborhood Center, a local charity, and this year the Rare Beer Auction at Jolly Pumpkin Café & Brewery, 311 S. Main St., Ann Arbor, aims to top that with dozens of bottles of special and limited-edition Jolly Pumpkin brews from the cellar of Ron and Lori Jeffries. Come to the café beginning at 7 p.m. for your chance to pick up a bottle from the first batch of Bam Biére ever brewed and more. Don't forget your checkbook and auction face!
Thursday, Dec. 9
» Yuletide is upon us, and that means a variety of winter and holiday-inspired beers, from strong, malty concoctions to festive spicy brews. Arbor Brewing collects and serves two dozen of them alongside an appetizer buffet in the merriest beer tasting of the year. From 7-9 p.m. get into the spirit, and enter to win raffle prizes including apparel, glassware, and other great beer-phernalia. Tickets are $25 in advance; $30 the day of. Call 734-213-1393 to order yours.
Notes on the Napkin

Beer? Trivia? Find both at Wolverine State Brewing, 2019 W. Stadium Blvd., Ann Arbor, with Motor City Trivia every Wednesday starting Dec. 1 from 7-9 p.m. And soon you can show off your huge brain while enjoying new Wolverine beers, as brewer Oliver Roberts is busy this week creating a Vienna Amber Lager, Rye Pilsner, Faustian Baltic Porter, Wolverine Dark Lager and a yet-to-be-classified special beer. Look for them on tap soon.

The Sons of Liberty homebrew club meets on the first Monday every month at Liberty Street Brewing Co., 149 W. Liberty. If you're interested in swapping beer stories and homebrewed beverages, the next meeting is Dec. 6 at 7 p.m. in the basement of LSBC. And on Dec. 8, look for the release of the latest Sons of Liberty small-batch beer, Liberator Doppelbock.

One other item for your crowded Dec. 7 is the Downtown Ypsilanti Winter Farmers Market from 3-7 p.m. at the Corner Brewery. Roughly a dozen local produce growers will be on hand, along with cheeses from Zingerman's and Grassfields, baked goods from the Ypsi Food Co-op and others, holiday crafts, and to-go tamales from Pilar's. On top of that, happy hour pricing on Corner beers also begins at 3. Also mark Dec. 21 on your calendar when they do it all over again.

Tickets are now on sale for the 2011 Michigan Brewers Guild Winter Beer Festival, which takes place Feb. 26 in Grand Rapids. Cost is $35; go here to order your ticket online.

Need more local beer coverage? Well, you're in luck! Your correspondent has started a new blog to supplement the wealth of info you already receive here at AnnArbor.com. Just point your beer browser to AnnArborBeer.com for more news and views, an event calendar, links, Twitter and all the rest of that stuff. Cheers!

David Bardallis is a freelance writer and editor, blogger, bon vivant, and man about town. Visit "All the Brews Fit to Pint" at AnnArborBeer.com, follow @dbardallis on Twitter, or join the "All the Brews Fit to Pint" Facebook page.. Email your beer-related thoughts to annarborbeer@gmail.com.