All the Brews Fit to Pint
food & grocery:

The Week in Beer: Hair of the dog for that Summer Beer Festival hangover

Posted on Thu, Aug 2, 2012 : 11:15 a.m.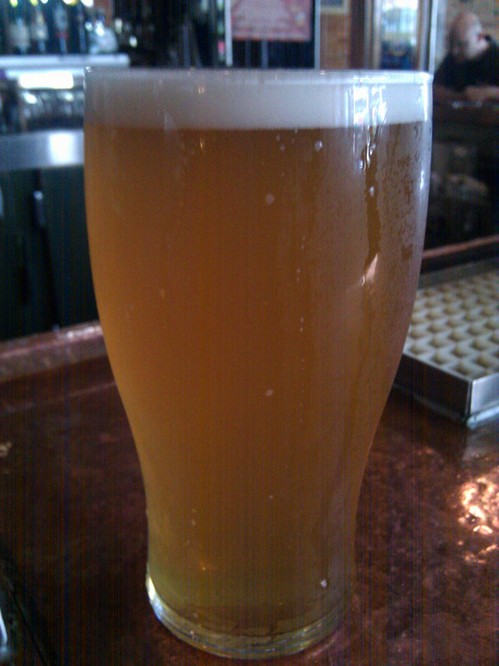 David Bardallis | Contributor

Now that another Michigan Summer Beer Festival is in the books, it's time to settle back down to the regular, slower paced enjoyment of great beer we know oh so well around these parts. As usual, there are great opportunities to leisurely tickle your taste buds with all varieties of our favorite nectar. Take a gander at your latest Week in Beer.

Friday, Aug. 3

>> If it's Friday, then your cupboard must be bare. Time to hit Whole Foods Cranbrook, 990 W. Eisenhower, for a shopping excursion. Oh, and it just so happens that from 5-7 p.m. the fine folks from Arbor Brewing will be at the Wine and Beer Bar for Michigan beer happy hour, featuring drafts of ABC beers for cheap! Or, anyway, for Whole Food happy hour prices, which are awesome. And don't forget to order some oysters from the Seafood Bar to start your weekend off right.

Saturday, Aug. 4

>> Who doesn't like to be appreciated? Head to Fraser's Pub, 2045 Packard, from 3-11 p.m. and get a whole lot of appreciation in the form of 50 percent off your tab. It's their Customer Appreciation Day in honor of the venerable establishment's 50th anniversary. Their 50th Anniversary Ale, an imperial rye ale contract brewed by Arbor, will be on tap as well.

Tuesday, Aug. 7

>> Brewer's Night returns to the Grizzly Peak Den, 120 W. Washington, from 6-9 p.m., and head brewer Duncan Williams is dying to take you on a personal tour of the brewery (just ask him) as well as ply you with discounted samplers of Grizzly beers and a cask of something special. Plus all the cool kids go to Brewer's Night.

Wednesday, Aug. 8

>> You know craft beer has gone mainstream once even neighborhood pizza franchises begin hosting tap takeover events. Such an event is happening at Jet's Pizza, 506 N. Main, Chelsea, as Arbor Brewing rolls into the joint beginning at 6:30 p.m. Tickets are $30 and include a full pint from one of the 12 Arbor beers on tap plus four more beer samples paired with four courses of food and a discussion from Arbor owners Matt and Rene Greff. Free and open to the public after 8. Call 734- 433-9700 for more info.

>> Ashley's, 338 S. State, is hosting a 6 p.m. kickoff party to introduce to the Washtenaw area the beers of Blue Point Brewing, an up-and-coming brewery based in Long Island, N.Y. On tap will be Toasted Lager, Hoptical Illusion IPA, RastafaRye, Oatmeal Stout and White IPA. Blue Point representatives will be on hand to answer questions and hand out swag, and Ashley's will also be selling Blue Point bottles to go from its new "takeaway section." Your correspondent tried several Blue Point beers earlier this year, including the Toasted Lager and White IPA; they're worth checking out.

Thursday, Aug. 9

>> If you couldn't make it to Ashley's, you have two more chances to check out Blue Point: 5 p.m. at Fraser's, and 8 p.m. at The Arena. Both venues will feature Toasted Lager, Hoptical Illusion IPA, and RastafaRye, and Blue Point reps. Vote for your favorite at Fraser's, and it will stay on tap after the event.

>> Arbor Brewing, 114 E. Washington, is toasting the amazing American craft beer industry with its Micro Madness beer tasting from 7-9 p.m. More than two dozen different brews of all styles and varieties will be there for your drinking enjoyment, along with the usual appetizer buffet and beer swag raffle. Tickets are $25 in advance and $30 if purchased on tasting day. Call 734-213-1393 to order.

Notes on the Napkin


David Bardallis is a freelance writer and editor, blogger, bon vivant, and man about town. Visit "All the Brews Fit to Pint" at AnnArborBeer.com, follow @allthebrews on Twitter, or join the "All the Brews Fit to Pint" Facebook page. Email your beer-related thoughts to annarborbeer@gmail.com.