Posted on
Thu, Mar 11, 2010 : 8:02 a.m.
The Week in Beer: Green eggs and beer edition
By David Bardallis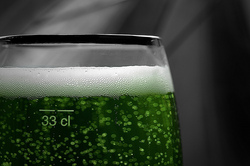 Photo by Flickr user Brendan Lynch
It's that time of the year to beware the Ides of March (what the heck is an ide anyway?) and sure and begorrah grab your four-leaf clover, dress in green, and wish a "top o' the morning" to all you see, or at least anyone who can stand yet another goofy Irish cliché.

At any rate, St. Patrick's Day in County Washtenaw is always a lot of fun, and our local public houses offer a number of good options to enjoy this most excellent beer-drinking holiday. But there's even more ahead in your Week in Beer, below.

Thursday, March 11
Reminder: Tonight from 7-9 p.m. is the stout tasting at Arbor Brewing, 114 E. Washington. More than two dozen bottles of the dark stuff to sample from as well as an appetizer buffet and door prize drawings. Day-of tickets may still be available at $30; call 734-213-1393 to see if you can get in on this delicious, seasonally appropriate happening. (Tip: Use this AnnArbor.com coupon to get $5 off when you buy two tickets.)
Maybe you fancy yourself a more cultured sort of beer drinker. If so, you'll want to head to the Kerrytown Concert House, 415 N. Fourth, at 8 p.m. for an evening of "Opera on Tap" featuring arias and duets from Carmen, The Barber of Seville, The Marriage of Figaro and, of course, beer. The complimentary brews are provided courtesy of Wolverine State Brewing Co., and the concert is organized by Suzi Naguib and the Ann Arbor International Group and led by director and baritone Ko Kaiden. $10 general admission includes appetizers from Café Zola and Fabulous Food Catering as well as a 7:30 raffle prior to the concert. Proceeds benefit the Leukemia and Lymphoma Society.
Friday, March 12
At 5 p.m. Ashley's, 338 S. State CORRECTION: 7525 Wayne, will be tapping into a firkin of Stone Brewing's Sublimely Self-Righteous Ale, an 8.7 percent ABV American strong ale brewed with Chinook, SImcoe and Amarillo hops. At 6 p.m., Ashley's Ann Arbor hosts a release party for Great Lakes Brewing's Lake Erie Monster IPA, a 9.1 percent ABV bitter beast sure to soothe the savage hophead.
Saturday, March 13
Come back to Ashley's CORRECTION: Ashley's Westland is hosting a pre-St. Patrick's Day party from 7-11pm featuring beer specials, contests, Irish food and dancers and live music from Kevin Murphy. Erin go brew!
Wednesday, March 17, St. Patrick's Day
Why not start your beer drinking on St. Patrick's Day proper as early as possible? Ashley's, 338 S. State, opens at 6:30 a.m. and features "Breakfast and a T-shirt" for $10, which entitles you to — you guessed it — a breakfast buffet and some fine Ashley's attire, while supplies last. Breakfast ends at 9:30 a.m. but T-shirts are $10 throughout the day. Jell-O shots and green pints of Labatt's are $3, Guinness is $4, and special taps include Arcadia Ales' Brigid's Irish Red Ale and Arbor Brewing's Faricy Fest Irish Stout.
Speaking of Arbor Brewing, those fine folks are hosting their own "Top o' the Morning Party" beginning at 7 a.m. with a breakfast buffet and happy hour pricing until 11 a.m. Five ABC stouts will be on tap — Faricy Fest, Blackheath Sweet, Steamroller Russian Imperial, St. Patrick's, and Espresso Love Breakfast — and lunch and dinner specials run from 11:30 a.m. to midnight. Happy hour begins again from 4-7 p.m., accompanied by the live Celtic stylings of Killarney Broadcast. No cover.
Arbor's sister pub, the Corner Brewery, 720 Norris, Ypsilanti, has a similar deal: An all-you-can-eat breakfast buffet from 7-11a.m. with happy hour pricing; food specials; small-batch brews, including Lucky Charms, Oops All Berries, Adam's Cracklin' Oat Bran and Mike's Oatmeal stouts; more happy hour from 4-7 p.m.; and live music from 7-10 p.m. provided by the legendary Scotty Karate. The beer garden will be open, weather permitting. No cover.
Original Gravity Brewing Co., 440 County, Milan, has happy hour from 11:30 a.m. to 6 p.m. and will be serving a homemade beef stew made with OG's Primordial Porter, while it lasts. Rotating tap is Sean of the Red Irish Ale. Sláinte!
Finally, if the bar scene isn't for you, you can still participate in some St. Patrick's Day mirth at the grocery store. Whole Foods Cranbrook, 990 W. Eisenhower, is featuring $3 pints all day of Arbor Brewing's Faricy Fest and other Irish stouts, including gelato-stout floats.
Notes on the Napkin

That's all the brews fit to pint for your Holy Week of St. Patrick. Until next time, may the road not rise to meet you, because if it does, that's a sure sign you've had one too many stouts, Paddy.

David Bardallis is a freelance writer and editor, blogger, bon vivant and man about town. Visit his Web site, DavidBardallis.com, to engage his services or read his latest. Email your beer-related thoughts to annarborbeer@gmail.com, follow @dbardallis on Twitter or join the "All the Brews Fit to Pint" Facebook page.