Posted on
Thu, Mar 24, 2011 : 8:05 a.m.
The Week in Beer: Get your Oberon on
By David Bardallis

One of Michigan's most visible symbols of spring is arguably the return of the most popular beer from the state's largest brewery:
Bell's
Oberon
.
The seasonally produced wheat brew has a large following, accounting for more than half of the brewery's Michigan sales each year. When you start seeing that little orange sun god on tap handles and bottles, you know that summer is not far off, and your Week in Beer, of course, knows how you can get out and start celebrating early.
Sunday, March 27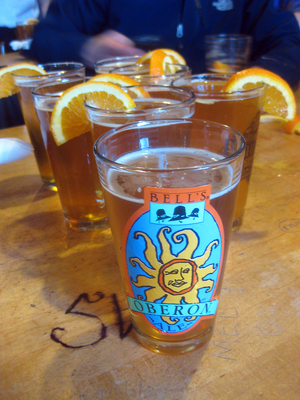 David Bardallis photo | AnnArbor.com contributor
» Oberon's official release date is March 28, but if you're a night owl and/or don't need to report to a cubicle early Monday morning, head to
Ashley's
, 338 S. State, for a midnight tapping. Come a little early to score some brewery swag and take part in the crowning ceremony of a new King or Queen Oberon, heralding the return of warm, sunny days. Or so we hope.
» Bar Louie, 401 E. Liberty, and the Brown Jug, 1204 South University, also are hosting their own midnight tappings, or, if Ypsilanti's a little closer for you, Sidetrack Bar & Grill, 56 E. Cross, will be getting in on the witching hour fun, too. Pick your destination and come out for beer and Bell's giveaways.
Monday, March 28
» From 2-6 p.m., local distributor Rave Associates hosts a Downtown Ann Arbor Oberon Pub Crawl. Skip out of work and come to Cottage Inn Restaurant, 512 E. William, at 2 and prepare yourself for a springtime stroll from there to Bar Louie; Sava's Cafe, 211 S. State; Red Hawk Bar & Grill, 216 S. State; and finally Ashley's, 338 S. State, all the while collecting Bell's freebies, talking (and drinking) beer with Bell's rep David Munro, and hanging with some of the coolest people, i.e., Michigan beer lovers!
Tuesday, March 29
» In 2007, Matt Greff of Arbor Brewing and Aaron Morse of Dark Horse Brewing in Marshall collaborated on a beer they called Dark Corner. Using the jointly developed recipe, Morse brewed a batch in Marshall and Greff brewed a batch at the Corner Brewery in Ypsilanti. The results were bottled and put into sixpacks, three bottles from each brewery. In the years since, many people have wondered when this beer, an imperial brown ale, would be available again. The answer is: now. From 6-8 p.m. at the Corner, enjoy pints of Dark Corner and munchies at a special release party, free for Mug Club members and $10 for nonmembers. But, hey, there's discounted sixpacks for everyone!
Notes on the Napkin
Liberty Street Brewing, 149 W. Liberty, also has its own version of summer in a glass now pouring: Clementine Lemon Thyme, a wheat beer brewed with orange and lemon zest and dry "hopped" with thyme for a light, refreshing flavor that begs one sip after another. Also on tap at Liberty: Red Oak Amber, an amber ale aged on toasted oak chips for a blend of caramel, vanilla, and bourbon-like flavors.
Make a note for April Fool's Day, when Ann Arbor's FestiFools merrymakers will be holding the first-ever "Fool Moon" event from 5-11 p.m. in front of Grizzly Peak, 120 W. Washington. In addition to puppets and related tomfoolery, there will be beer and food from Grizzly, Blue Tractor, and Jolly Pumpkin, as well as live music from the Third Coast Kings, Juice, and Vulf Duo. Only a fool would miss it.

David Bardallis is a freelance writer and editor, blogger, bon vivant, and man about town. Visit "All the Brews Fit to Pint" at AnnArborBeer.com, follow @allthebrews on Twitter, or join the "All the Brews Fit to Pint" Facebook page. Email your beer-related thoughts to annarborbeer@gmail.com.