Posted on
Thu, Jun 13, 2013 : 5:58 a.m.
The Week in Beer: Music, food, festivals and fairs
By David Bardallis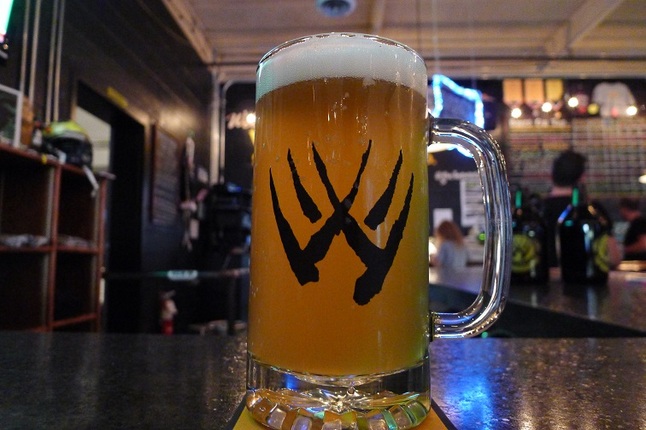 David Bardallis | Contributor

Here at the
Week in Beer
, I've often opined that beer pairs well with things. Things like food, yes, but also things like live music. And outdoor festivals, fairs, and anniversary parties. Don't believe me? You'll have many chances to see how right I am in the days ahead. Wherever you look, there's beer and good times. And I think to myself, what a wonderful world.
Thursday, June 13
>> Captain Joe's Grill, 9901 N. Main, Whitmore Lake, plays host to Witch's Hat Brewing, who will be taking over six taps with their funky fresh brews beginning at 6:30 p.m. Check out the Captain Joe's website for other upcoming tap takeovers, happening the second Thursday of every month.
>> Fruit beers are pouring at Arbor Brewing, 114 E. Washington, from 7-9 p.m. during this month's tasting event. More than two dozen brews, including everything from blueberry stouts to tart Belgian kriek (cherry) lambics, will combine with an appetizer buffet and prize drawings for an evening full of awesome. Tickets are $30; pick up yours at the brewpub or call 734-213-1393.
Friday, June 14
>> The Hatter Days tour rolls into Whole Foods Cranbrook, 990 W. Eisenhower, from 5-7 p.m. when brewery representative Jimmy joins the Wine and Beer Bar folks as they tap into eight New Holland beers from the Hatter series (and possibly some other favorites). Good times!
>> From 6-9 p.m., Main St. will be blocked off in downtown Ann Arbor for the 13th annual Mayor's Green Fair. The really important part of this event, however, is Arbor Brewing's zero-waste Beer Garden outside on Washington St. from 6-11 p.m. There, you can try a variety of one-off special beers brewed in collaboration with the likes of Wolverine State Brewing's Oliver Roberts, Jolly Pumpkin's Ron Jeffries, Original Gravity's Brad Sancho, Dark Horse's Bryan Wiggs, and Bill Gerds (formerly of Arbor and Cranker's Brewery in Big Rapids). Roots-rockers Rootstand will supply the live grooves. No cover.
Saturday, June 15
>> Original Gravity, 440 County, Milan, turns five and is celebrating in style with a fifth anniversary blowout beginning at 11:30 a.m. In addition to the normal OG beer lineup, there will be 10 different IPAs pouring along with mouthwatering food from Red Rock Downtown Barbecue beginning at 2 and going until it runs out. Live music starts at 5, and there will, of course, be a beer tent on the newly renovated patio. Party time! Excellent!
Sunday, June 16
>> Happy Father's Day! Take Dad out for a beer at the Wolverine State Brewing taproom, 2019 W. Stadium, and Wolverine will buy the old man's first brew. Or check out the Father's Day brunch at the Corner Brewery, 720 Norris, Ypsilanti, beginning at 10 a.m. with a menu of sumptuous breakfast options and beer to enjoy while the Bob Skon Trio serenades you and your pappy. No cover.
Tuesday, June 18
>> The Ann Arbor Summer Festival is in full swing, and happily, good beer is part of the festivities. Every Tuesday throughout the AASF, visit the Top of the Park Beverage Garden for a special beer tasting from 5-8 p.m., sponsored by O&W. Tonight's guest brewery is Right Brain Brewing from Traverse City. There's a $15 fee for each tasting; check the AASF website for more information on upcoming breweries.
Wednesday, June 19
>> Roll out the barrels, or at least the barrel-aged beers! Ashley's, 338 S. State, will tap six of them at 6 p.m., including North Coast Barrel Aged Old Rasputin Imperial Stout, Anderson Valley Wild Turkey Bourbon Barrel Stout, Arbor Brewing Barrel Aged Olde Number 22 Altbier, Short's Bourbon Barrel Aged Aphasia Old Ale and Sustenance Schwarzbier, and Bell's Black Note Stout. Whew. Better get your drinking muscles in shape.
Thursday, June 20
>> Celebrate the summer solstice with a special performance of Kevin & the Glen Levens beginning at 8:30 p.m. at the Wolverine taproom, where many hoppy new brews are pouring like Au Sable Rye India Pale Lager and Virtuous White IPL. No cover.
Notes on the Napkin
On tap at Arbor Brewing is Festival Saison, every glass of which kicks back a portion of the cost to support the Ann Arbor Summer Festival. Drink up!
Tickets are going fast for Wolverine's annual bus trip to see the Detroit Tigers July 28. For $70 you get brunch, one ticket to the game, bus ride to and from The D including beer, and one buttload of fun. Drop by the taproom to sign up or call 734-369-2990 and check out the Wolverine Beer Wench's blog for the latest brewery news. (And in case your baseball schedule isn't handy: The Tigers' opponent on July 28 is the Phillies.)
Grange Kitchen & Bar, 118 W. Liberty, is taking reservations for its June 26 Dark Horse beer dinner. The cost is $60 (excluding tax and tip) for five courses of seasonal, locally sourced goodness paired with good Michigan beer. Call 734-995-2107 or buy online.
The new World of Beer Ann Arbor, 1300 South University, is scheduled to open July 1 with a grand opening party featuring raffles, giveaways, live music, and, well, beers: 40 on tap and 500 in bottles. In the meantime, they're running a "refer your friends" contest on their Facebook page, the winner of which will receive a $50 gift card and a six-pack of something good. See the page for details on how it all works.
David Bardallis is a freelance writer and editor, blogger, bon vivant, and man about town. Visit "All the Brews Fit to Pint" at AnnArborBeer.com, follow @allthebrews on Twitter, or join the "All the Brews Fit to Pint" Facebook page. He is also working on a book about Ann Arbor's illustrious beer past and present. Email your beer-related thoughts to annarborbeer@gmail.com.