Posted on
Thu, Dec 29, 2011 : 2:30 p.m.
The Week in Beer: It's another happy brew year
By David Bardallis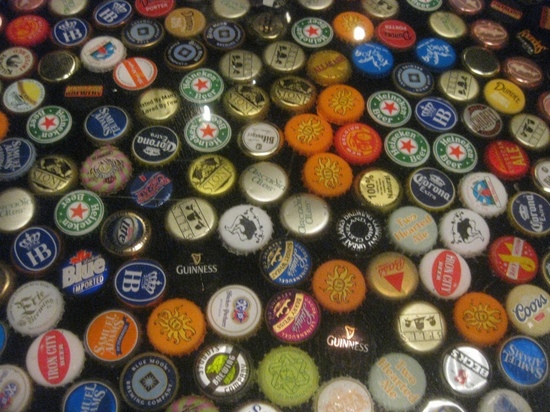 David Bardallis | Contributor

Eat, drink, and be merry, for in 2012 the world will end, at least according to the Mayans. But what did they know? They were into human sacrifice and other nasty business. Nonetheless, drinking and merriment are still the recommended method for celebrating the advent of a new year, end of the world or not. Fortunately, there are some great opportunities around town to both drink and be merry, and your
Week in Beer
has you covered. Happy brew year!
Saturday, Dec. 31
>> Ring in the New Year at the Corner Brewery, 720 Norris, Ypsilanti, beginning at 8 p.m. with live funk from the Third Coast Kings and Dirty Deville. Even better, a series of barrel-aged small-batch "Rat Pad" brews will be released every hour from 8:30 to 11:30; beers include a cask of Sea Leggz Rye Porter and barrel-aged Apple Scruffs Ale, Espresso Love Breakfast Stout, and Jackhammer Old Ale. The festivities last until 1 a.m., and there's no cover for all this fun.
>> In Ann Arbor, Arbor Brewing, 114 E. Washington, is hosting "Brew Year's Eve" from 8:30 p.m. until 1 a.m. Celebratory beers will be released every hour, including Vitality IPA, Larry Hoppe Double IPA, Devastation Triple IPA and, finally, the super extreme Annihilation Quadruple IPA. Food specials include Walnut Maple Salad, Beer-Battered Brie and a Bloody Mary Burger. DJ J. Clark adds to the festivities spinning tunes in the Game Room beginning at 9 p.m. No cover.
>> Also on tap at Arbor by Saturday will be Citramarillo Pale Ale, the Best of Show winner at this past summer's annual Brews Crews homebrew competition at the Corner Brewery. Local homebrewers Bob and Kim Barrett joined with Corner brewer Logan Schaedig to create a commercial batch of the Citra- and Amarillo-hopped beer to be sold and served at the brewpub. Be sure to try some while it's on, and say congrats to Bob and Kim if you see them at the bar.
>> Not to be outdone, Wolverine State Brewing, 2019 W. Stadium, has a new New Year's beer to offer as well. Drop by the tap room to try out three slightly different versions of "Neapolitan" brew: a Hibiscus, Chocolate and Vanilla Lager blend; Wolverine Dark Lager dry-"hopped" with cocoa nibs and vanilla and blended with Hibiscus Lager; and Hibiscus Lager dry-"hopped" with cocoa nibs and vanilla. Available in 12-ounce pours only.
>> Meanwhile, over at Liberty Street Brewing, 149 W. Liberty, Plymouth, the much-anticipated Emperor Norton Russian Imperial Stout makes its return to the taps. A glass of this 11 percent alcohol-by-volume (ABV) black elixir will grow hair on your chest, but for those who wish to remain hairless, also look for the exquisite Wheat and Rye English Bitter on tap, a flavorful yet relatively tame 5.6 percent ABV treat that blends the light smoothness of wheat malt with the spicy notes of rye malt into one seriously drinkable brew.
Tuesday, Jan. 3
>> The Michigan Wolverines play in the Sugar Bowl in New Orleans with kickoff at 7:30 p.m., but beginning at 6 p.m. you can get warmed up for the action with another Brewer's Night at the Den at Grizzly Peak, 120 W. Washington. Enjoy discounts on beer samplers, brewery tours, chit-chat with head brewer Duncan Williams and his team, and glasses for a special cask of brew TBD. The fun lasts until 9.
David Bardallis is a freelance writer and editor, blogger, bon vivant and man about town. Visit "All the Brews Fit to Pint" at AnnArborBeer.com, follow @allthebrews on Twitter, or join the "All the Brews Fit to Pint" Facebook page. Email your beer-related thoughts to annarborbeer@gmail.com.